Mug Shot Monday! Isaie Beausoleil,
FBI Most Wanted, 1952-1953
Home
|
Mug Shot Monday
| Mug Shot Monday! Isaie Beausoleil,
FBI Most Wanted, 1952-1953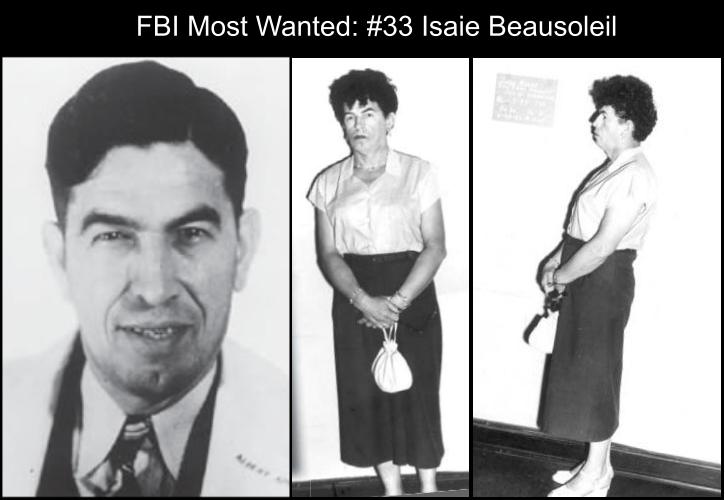 Isaie Beausoleil was a fugitive who was placed on the FBI's Most Wanted List in 1952 and was captured one year later dressed as a woman-a disguise he had been using to escape detection. The following article is from the FBI's booklet, Ten Most Wanted 60th Anniversary, 1950-2010.
Although investigators described "Top Ten Fugitive" Isaie Beausoleil was a tough-to-track "lone wolf" because he kept a low profile, they captured him because of his not-so-subtle disguise. Dressed in a black satin bathing suit, covered up with a blue blouse and a green skirt, Chicago Park Police searched him following reports of suspicious behavior in the women's restroom.
Initially searched by a female officer, Beausoleil was turned over to another Chicago Park Police officer once it was determined the woman was in fact a male. He was handcuffed bearing painted fingernails and taken into custody. Once fingerprinted, he was identified as a "Top Ten Fugitive."
Already possessing a lengthy arrest record, he acquired a spot on the "Top Ten" on March 3, 1952, a few years after he was charged with first degree murder. On August 17, 1949, a bludgeoned woman's body was discovered in a ditch alongside a Michigan road; two weeks later, police were on the hunt for Beausoleil. Police ultimately named Beausoleil, the bludgeoned woman's companion, as the "logical suspect" because his car was spotted fleeing the murder scene and was later recovered in Boston, Massachusetts.
Suspicion mounted when he visited North Avenue Beach in Chicago, Illinois, dressed as a woman and was observed acting peculiar in the women's restroom.
In September of 1953, after deportation back to Canada because of violations of immigration laws, he was sentenced to five years' probation for unlawful entry into the United States. A month later, Beausoleil stood trial for earlier crimes and received five-to-ten years and one-to-three years for attempted robbery and escape, in addition to a parole violation.
—###—
True Crime Book: Famous Crimes the World Forgot Vol II, 384 pages, Kindle just $3.99, More Amazing True Crime Stories You Never Knew About! = GOLD MEDAL WINNER, True Crime Category, 2018 Independent Publisher Awards.
---
Check Out These Popular Stories on Historical Crime Detective
Posted: Jason Lucky Morrow - Writer/Founder/Editor, May 11th, 2015 under Mug Shot Monday.
Tags: 1950s, bizarre, FBI Most Wanted, Murder