Mug Shot Monday! Ed Hagen, Hero Policeman, Boxer, Bootlegger, 1921
Home
|
Mug Shot Monday
| Mug Shot Monday! Ed Hagen, Hero Policeman, Boxer, Bootlegger, 1921
Ed Hagen was a former semi-professional boxer and hero policeman turned bootlegger. He was caught in April of 1919 trying to break into a government liquor warehouse. He was sentenced to two years in McNeil Island Federal Penitentiary. He appealed his sentence but eventually lost and began serving his sentence in March, 1921. The article below is just one of many stories about him that can be found on the internet by searching "Ed Hagen" Seattle Policeman. While he was appealing his sentence, he was working as a baker's helper when he got his hand caught in a dough mixer and lost two of his fingers. For a man that was shot several different times in the line of duty as a police officer, this was just one of many injuries he endured during his exciting and often publicized life.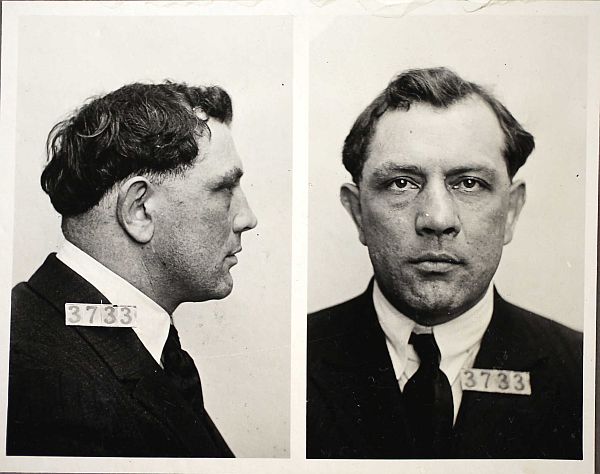 The article below was originally published in The Seattle Star under the title "Done With Booze," on August 5, 1921, pages 1 and 7.
Ex Patrolman Ed Hagen, once hero of Seattle, small boys' idol and regarded as one the most courageous men in the police department, later one of the hardest-boiled bootleggers of the Northwest, now a federal convict, today is seeking a parole. He has reformed, he says.
Having served four months of a two-year sentence on McNeil Island Penitentiary for breaking into a government liquor storehouse. Hagen has written appealing letters to United States Attorney Saunders asking Saunders to help him gain his release.
"I am a changed man," writes Hagen, "and a model prisoner. I see everything now in a different light, I want to go straight."
Saunders is understood to have promised Hagen that the charge still pending against the prisoner hero will be dismissed, paving the way for parole board action. No parole could be considered too long as other charges are pending.
STARWICH AND DOUGLAS OPPOSED TO RELEASE
"What's the matter? Are we short of whiskey in Seattle? He oughtn't to be paroled. What he needs is a longer term."
This was the pithy comment of Sheriff Matt Starwich, whose men had several brushes with Hagen, the bootlegger, before he was finally captured.
Prosecutor Malcolm Douglas declared he was not inclined to jump on a man when he is down but considered a parole for Hagen would be a mistake.
"We had a case against him before the government sent him to prison," said Douglas. "We fined him instead of giving him a jail term on the understanding that he was going up for two years on the federal charge."
SEARING LAUDS HIS FORMER PATROLMAN

"The mere fact that Hagen was a policeman should not interfere with his pardon any more than any other man's. Personalities should not be considered in a matter of simple justice." said Police Chief William H. Searing. "I would like to get Hagen out, but I'm not going to give any opinion on the case, further than to say that a better policeman never lived than Ed Hagen. If he had not gotten into bad company, he would have been the best man in the force. He was absolutely fearless.
"Hagen was wild. He got into bad company and now he's paying for it. I'm sorry, because Hagen was a good man. He was simply an overgrown boy."
Commended for Bravery
Hagen joined the force Nov. 3, 1907 as a "temporary" and shortly was commended for courageous action in connection with the arrest of a holdup gang.
He became the storm center of a dispute over bribery charges, was dismissed, reinstated, dismissed again, begged to come back, and finally resigned. Ten days later he rejoined the force and was again commended for a daring arrest of footpads.
In September, 1915, he was shot by two men at the end of the Madrona Park car line. They left him riddled and apparently dead.
In the hospital, during his long fight for his life, he became the hero of the town. Extra editions of the newspapers giving his condition hour by hour were eagerly seized and read. The name "Hagen" was on everybody's lips.
Arrested for Bribery, Takes Bothel Gang
When he came out of the hospital and it was announced he would resume his old beat, a whole city rejoiced. In 1916, he was indicted for accepting a bribe. His acquittal was speedy. He returned to work and a few days later, singled handed, captured the notorious "Bothel gang" [Bothel, not Brothel].
Again he was arrested on bribery charges. A year later he quite the force, turned bootlegger, and to his friends, "went wild."
He knew he was in bad with the federal prohibition men and delighted in it. He knew that they followed him about, and he would go on a wild goose chase just for the fun of leading them on. He would travel about the city for the joy of seeing them follow him. He was a model policeman except for his wild ways. He was the best worker on the force, his superior officers frequently declared.
His wife and his elderly mother visited him recently in the prison and came back to report they had never seen a man so changed. They had found him, they said, not only a model prisoner but a member of the prison church. Both are working toward his parole.
—-###—-
True Crime Book: Famous Crimes the World Forgot Vol II, 384 pages, Kindle just $3.99, More Amazing True Crime Stories You Never Knew About! = GOLD MEDAL WINNER, True Crime Category, 2018 Independent Publisher Awards.
---
Check Out These Popular Stories on Historical Crime Detective
Posted: Jason Lucky Morrow - Writer/Founder/Editor, September 29th, 2014 under Mug Shot Monday.
Tags: 1900-1919, 1920s, Petty Crimes, Washington State