The Murder of Judge Chillingworth and his Wife, 1955, as Detailed in a New Book, Grim Justice
Home
|
New Books
| The Murder of Judge Chillingworth and his Wife, 1955, as Detailed in a New Book,
Grim Justice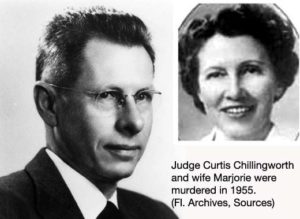 In the early morning hours of June 15, 1955, Judge Curtis Chillingworth and his wife Marjorie were snatched from their beachfront home in Palm Beach County, Florida and were never seen again.
Curtis E. Chillingworth was born to an upper-class family in 1896. His grandfather had moved down from New York and served as sheriff. His father, Charles had acquired over 12,000 acres of land and served as the first city attorney. Curtis was more than a rich, white boy, he was local royalty. He graduated from the University of Florida in 1917 and was admitted to the Florida Bar a few months later. He joined the United States Naval Academy and served in two world wars. Between his stints in war, Chillingworth married the love of his life Marjorie McKinley and had three daughters.
In 1921, Chillingworth became the youngest person to ever hold the circuit judge position. He was only 24. This title he would hold for 32 years until his disappearance in 1955.
Chillingworth was known as a truly honest judge. He was a stickler for the law and punctuality. He was the type to stand outside the courtroom and stare at his watch waiting for the hand to move. So, when Judge Chillingworth missed an appointment to meet two repairmen at 8 a.m., everyone knew something was terribly wrong.
The two carpenters waited at Chillingworth's beachfront cottage in Manalapan, Florida hoping the judge would return shortly. Growing tired of waiting the pair decided to take a swim. They took the footpath around the home and down to the beach. There they noticed what looked like blood. Alarmed they began to take stock of the area. The floodlight had been shattered. Something was wrong.
By noon, police officers were swarming the area. Evidence was slim at best. All that was left were the shards of glass, an empty spool of tape, blood on the porch steps, and signs of a scuffle in the sand. It would be five long years before the community would learn the truth. Unfortunately, the truth would be even more shocking. A young judge who grew up down the street from the Chillingworth girls would eventually become the mastermind behind Florida's Crime of the Century.
Joseph A. Peel was the polar opposite of the honorable Judge Chillingworth. While the elder was a stern upholder of the law, the younger was a rowdy playboy who loved to manipulate it. Peel was all about making money and living a flashy lifestyle.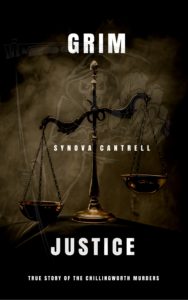 In 1953, Peel represented both the wife and the husband in a divorce case. This unethical manipulation of the law earned him a hearing with the higher-ranking Judge Curtis Chillingworth. Considering his youth, Chillingworth gave Peel a warning but declared it would be the final one. This would be enough to scare any honest person onto the straight and narrow path, but not Joseph Peel.
A judge's salary was only $3,000/year, but somehow Peel could afford all the top luxuries of life. No one ever questioned him, but Joe Peel was playing both sides of the law. With two cohorts, Floyd Holzapfel and Bobby Lincoln, Judge Peel ran a protection racket in Palm Beach County. It was a simple scam. If the police needed a warrant, they had to see Judge Peel. Peel would issue the legal documentation, and then call his cohorts and warn them of the coming raid. Criminals paid big money to have this protection and soon Peel was making a year's salary in a week. This scheme probably wouldn't have been discovered if Peel had done his legal work properly. But in 1955, Peel was again set to face Judge Chillingworth for unethical conduct. This time he would be disbarred.
Judge Peel was still acting as an attorney during his judgeship and again he chose to handle a divorce case deceitfully. This time he told a woman that she was divorced and never filed the final paperwork. When she remarried and tried to adopt a child she discovered that she was a bigamist.
In a panic, Peel called in Floyd Holzapfel and hatched a plan for murder. The details wouldn't come out for five years and the bodies would never be found. You can read more about this story in Synova Cantrell's latest book Grim Justice available for pre-order on Amazon now.
—###—
True Crime Book: Famous Crimes the World Forgot Vol II, 384 pages, Kindle just $3.99, More Amazing True Crime Stories You Never Knew About! = GOLD MEDAL WINNER, True Crime Category, 2018 Independent Publisher Awards.
---
Check Out These Popular Stories on Historical Crime Detective
Posted: Jason Lucky Morrow - Writer/Founder/Editor, November 23rd, 2017 under New Books.
Tags: 1950s, Florida, Murder, Workplace Violence