2 Cars, 6 People Missing 43 & 44 years Found at Bottom of Lake in Oklahoma
Home
|
Recent News
,
Rediscovered Crime News
| 2 Cars, 6 People Missing 43 & 44 years Found at Bottom of Lake in Oklahoma
Skeletal remains of six people missing since 1969 and 1970 were found in two cars at the bottom of Foss Lake, Custer County, Oklahoma Tuesday afternoon (Sept 17, 2013) after authorities found their two submerged automobiles with new sonar they had been testing.
The first car pulled from the lake was a 1969 Chevrolet Camaro which contained the remains believed to be of three teenagers who went missing from Sayre, OK on Nov. 20, 1970. One of the victims from that car has been identified. Police have not released the name yet pending notification of the family.
Reporters checking a Department of Justice missing person website identified the three missing teenagers as Jimmy Allen Williams, 16, Leah Gail Johnson, 18, and Thomas Michael Rios, 18.
Information on the second automobile is less clear. It's believed to be an early 1950s Chevrolet four-door Sedan belonging to Alvie Porter, 69, who went missing with one other known person in 1969. The remains of a third person were found in the Chevrolet but police have no indications on who that individual might be.
A good, six minute video from KFOR-TV, Oklahoma City, can be Found Here. Other reports can be found at The Daily Oklahoman, and the Tulsa World.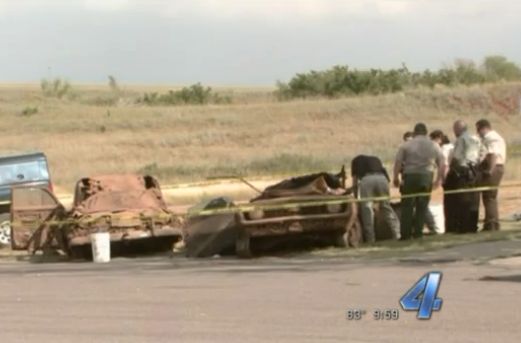 True Crime Book: Famous Crimes the World Forgot Vol II, 384 pages, Kindle just $3.99, More Amazing True Crime Stories You Never Knew About! = GOLD MEDAL WINNER, True Crime Category, 2018 Independent Publisher Awards.
---
Check Out These Popular Stories on Historical Crime Detective
Posted: Jason Lucky Morrow - Writer/Founder/Editor, September 18th, 2013 under Recent News, Rediscovered Crime News.
Tags: Missing Persons, Oklahoma