The Case of Dr. Hyde & Mr. Swope, 1909-10
Originally Published: "The Diabolical Plot Concocted by Dr. B. C. Hyde of Kansas City to Gain Control of Col. Swope's Millions," by Thomas Samuel Duke, Celebrated Criminal Cases of America, The James H. Barry Company, 1910. Note: This is very famous case in Kansas City.
Kansas City, Missouri, 1909-1910
Thomas Hunton Swope, afterward known as Colonel Swope, was born in Kentucky in 1829. After accumulating a few thousand dollars in his native state, he proceeded to Kansas City, Mo., in 1860, where he invested a large portion of his savings in suburban lands which were practically worthless then but which subsequently enhanced in value until Swope became a multi-millionaire.
He conceived a plan of devoting to public benefactions a large part of his wealth and as a part of this philanthropic plan he gave to Kansas City a magnificent tract of territory embracing 1354 acres, which is now known as Swope Park, the second largest park in America. In his later years Swope became extremely eccentric and seldom appeared in public.
He had two sisters and two brothers. One brother, Logan Swope, died in February, 1900, leaving a widow and seven children, named Chrisman, Frances, Thomas, Lucy, Margaret, Stella and Sarah. In 1909, Chrisman, the eldest, was 31 years of age, and Sarah, the youngest, was 14 years of age. Mrs. Logan Swope resided with her family in a large mansion near Independence, Mo., which is a short distance from Kansas City. Colonel Swope, who never married, and his cousin, J. Moss Hunton, resided in the same house.
Colonel Swope's property was valued at $3,600,000 and he made a will which provided that Mrs. Logan Swope's children should each receive about $200,000, with the exception of Francis, who was to receive but $135,000. There was also a residuary fund amounting to $1,405,595 which was to be equally divided among these seven children, but Swope had about decided to change his will and leave the residuary to charity. The entire Swope family knew the contents of this will and also knew of Swope's determination to change it. The executors of this will were J. Moss Hunton, Attorney John Paxton and Steward Fleming, Colonel Swope's nephew.
Bennett Clarke Hyde was born in Cowper County, Missouri, in 1872, but spent his boyhood days in Lexington, Mo., where his father was a Baptist preacher. Young Hyde received a college education and afterward graduated from the University Medical College in Kansas City, Mo.
In 1898-99 Dr. Hyde was demonstrator of anatomy at this college and during this time several graves were robbed. Finally two African-Americans named Sam McClain and Charley Perry were arrested for robbing the grave of Michael Kelly at St. Mary's Cemetery in Independence, Mo. They subsequently confessed to this crime and several others of a similar nature, and swore that they sold the bodies to Dr. Hyde. The doctor was arrested but the case never came to trial and was dropped from the calendar on March 4, 1899.
On May 4, 1905, Dr. Hyde was appointed police surgeon of Kansas City, but on September 10, 1907, he was suspended by Mayor Jones on a charge of cruelty to Mrs. Annie Clement, a black woman who had attempted to commit suicide by morphine poisoning and to whom Hyde administered oil of mustard for the purpose of arousing her from her sleepy condition.
On June 21, 1905, Dr. Hyde and Frances Swope were clandestinely married at Fayetteville, Ark. Mrs. Logan Swope was bitterly opposed to this marriage, as she stated that she felt certain that Hyde married Frances for money alone, and she furthermore stated that Hyde had made love to two other wealthy women and after obtaining $4,000 from one and $2,000 from the other, he "threw them over." Following the public announcement of Dr. Hyde's marriage, Mrs. Sarah Frank, of Kansas City, a widow, brought suit against Hyde asking damages for breach of promise, but the case was settled out of court.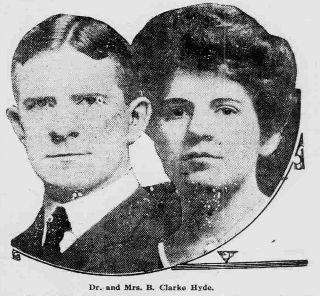 Dr. Bennet Clarke Hyde & Frances Swope
As a result of this marriage, Hyde and his wife's relatives were estranged for over a year, but in August, 1906 a reconciliation was effected and shortly afterward Colonel Swope paid $7,500 for a home at 3516 Forest Avenue, Kansas City, and presented it to Hyde and his wife.
On September 5, 1909, Colonel Swope, who was then 81 years of age, fell to the floor in the Swope mansion and while he was not seriously injured, he imagined that he was about to die and insisted upon being put to bed. Dr. Hyde engaged a nurse named Pearl Keller to care for him.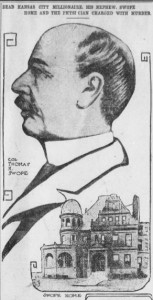 On the evening of October 1, 1909, Moss Hunton was eating his dinner in the Swope home when he collapsed. Dr. George T. Twyman, the regular family physician, and Dr. Hyde, were summoned and they diagnosed the case as apoplexy. Dr. Hyde suggested that the patient be bled, to which Dr. Twyman acquiesced.
Hyde then began to draw blood from the patient's arm. When one pint had been drawn Dr. Twyman stated that that was sufficient, but Dr. Hyde continued until two quarts were drawn. Dr. Twyman again insisted that no more be drawn and called Dr. Hyde's attention to a recent case where a physician had bled a patient to death. Miss Keller, the nurse, and Mrs. Hyde were in the room at the time, and when Hyde continued to ignore Dr. Twyman's advice, Mrs. Hyde, according to the statements subsequently made by Dr. Twyman and Miss Kellar, said to her husband, "Dear, I believe I would quit. Dr. Twyman thinks you have bled him enough." Hyde then quit but almost immediately afterward Hunton gave a spasmodic gasp and died.
About twenty minutes later, Dr. Hyde said to Miss Keller: "I want to have a private talk with you after a while." About an hour afterward Miss Keller saw Dr. Hyde alone in the sitting room and the doctor said: "Miss Keller, I am not a business man but I can be one. This man Hunton was one of the executors of the Swope estate and in a few days the old man will make a new will and appoint new executors, and I wish you would suggest that I take Hunton's place."
Miss Keller replied that she was engaged to perform professional services only and that she could not interfere in private affairs.
Although Colonel Swope insisted upon remaining in bed, he was feeling unusually well on the second day following the death of Hunton. Notwithstanding his favorable condition, Dr. Hyde gave Miss Keller a "digestive tablet" with instructions to give it to her patient. After much persuasion the nurse finally induced the old man to swallow it and twenty minutes later he was seized with violent convulsions.
During his conscious moments he said: "Oh, God, I wish I hadn't taken that damned medicine."
Upon noting the sudden change in Swope's condition, Miss Keller called Dr. Hyde from another room and after making a hasty examination of the patient, he stated that Swope was also a victim of apoplexy, probably brought on by the shock of Hunton's death, but the nurse subsequently stated that the symptoms and Dr. Hyde's treatment of Swope and Hunton were entirely different.
Although Dr. Twyman was Colonel Swope's regular physician and could easily have attended the patient, Dr. Hyde did not notify him of the changed condition of Swope.
On the evening of October 3 Colonel Swope died, and shortly afterward Hyde called Miss Keller to one side and advised her to charge $35 per week instead of $25, the regular rate.
Prior to October 1, 1909, Dr. Hyde drank the cistern water in the Swope home which was used by the entire family, but about this time he notified the Swopes that if they continued to use this water without boiling it they would have typhoid fever.
On Thanksgiving Day, November 25, 1909, Hyde and his wife dined at the Swope home, and they brought bottled water, which they only drank.
Three days later Mrs. Swope went to Chicago, but was called home on December 5.
Within two weeks after the Thanksgiving dinner the following persons, who were either members of the Swope family, visitors or servants, were stricken with typhoid fever:
December 1—Leonora Copridge, the African-American servant girl.
December 2—Chrisman and Margaret Swope, aged 31 and 21, respectively, and Miss Georgie Compton, a seamstress.
December 4—Miss Nora Dickson, a visitor and former governess in the house.
December 5—Steward Fleming, a visiting relative. December 10—Sarah Swope, aged 14 years.
December 11—Stella Swope, aged 16 years, and Mildred Fox, a 14-year-old girl, residing in Kansas City, who had only spent one day at the Swope mansion and was taken ill in her own home.
This epidemic resulted in four other nurses being called, namely: Misses Churchill, Gordan, Houlehan and Van Nuys.
On December 5 Dr. Hyde told Miss Houlehan, the nurse, that he had just given Chrisman Swope a capsule and instructed her to bathe him. While she was sponging the sick man he had a convulsion. Dr. Hyde was called and he declared that the patient was suffering from cerebral meningitis. He sank into a coma, but the next day he was evidently improving, until Dr. Hyde gave him another capsule, when he almost immediately became so restless that morphine was administered. A few moments later he died. Dr. Hyde then felt his pulse, and after throwing the dead man's feet around in a rough manner, said: "He's gone, prepare him for the undertaker."
The night his brother-in-law died, Dr. Hyde attended a banquet given in celebration of his election as president of the Jackson County Medical Society.
Miss Lucy Swope left her home for a trip through Europe on September 26, 1909, and on the day her brother Chrisman died a cable was sent requesting her to return at once, without giving the true reason for the request. She was due to arrive in New York on December 15, and her mother desired that some lady friend go to New York for the purpose of breaking the news and to be her companion on the homeward trip. A friend named Miss Mary Hickman was selected, and Mrs. Swope gave her daughter, Mrs. Hyde, sufficient money to purchase a ticket for Miss Hickman, when Dr. Hyde, who had never shown any particular interest in Lucy up to this time, insisted upon going himself, and he went, against the wishes of Mrs. Swope.
Hyde left Kansas City on December 13, but on the preceding evening he went to Margaret Swope's room, which was in semi-darkness at the time. Margaret was Dr. Twyman's patient, and Dr. Hyde had never treated her up to this time. Without making any examination of the young lady's pulse or inquiring into her condition or even admitting enough light into the room to note her appearance, Hyde at once administered a hypodermic injection into her arm. This injection caused great pain and the arm was disabled for months afterward.
Just as Hyde was leaving the room, Margaret's nurse, Miss Churchill, entered, and Hyde said: "I have just given Margaret an injection of camphorated oil, as I found that she had an intermittent pulse." Miss Churchill was much surprised at this unusual proceeding. She immediately felt Margaret's pulse, which she found to be perfectly regular, and she tried to detect the odor of the camphorated oil, alleged to have been injected, but failed.
On December 15, Hyde met Lucy Swope in New York, and they left that night for Kansas City. At this time Lucy was in good health. On the second day of the trip she started to get a drink of water, but Hyde stopped her and said: "Wait a minute, I have a folding cup that Frances sent you. I will get the water in that." Lucy subsequently stated that it seemed to take Hyde a long time to get the water. During the trip Lucy told Hyde that she intended to take some pills, and Hyde tried to persuade her to take some powders he had, but she declined.
When Miss Lucy reached her home she remained only a few hours, and did not drink any water in the Swope home. She then went to the home of Miss Elinor Minor, where she remained for two days, at the expiration of which time she became feverish and was taken home. A few days, later Drs.        Twyman and Sloan found that she was suffering from typhoid fever.
During Hyde's trip to New York the typhoid patients improved, especially Margaret, and when Hyde returned and visited this young lady on December 18, she was laughing and talking with Miss Houlehan. Hyde asked if Margaret was still taking the capsules, and upon receiving an affirmative answer, he examined the capsules, but the nurse did not observe just what he did. Shortly after Hyde left the room Miss Houlehan gave Margaret a capsule, and a few moments later Margaret was seized with convulsions. Fortunately, Dr. Twyman arrived on the scene at this time. Margaret vomited freely, and fortunately for the interests of justice the ejecta was placed in a bottle and saved.
A few moments later the five nurses held a conference, at which they agreed that Dr. Hyde was responsible for the conditions in the Swope home, and they decided that either Hyde or they must leave that night.
They then called upon Dr. Twyman, and after explaining their reasons for accusing Hyde they stated that either Hyde or they must leave at once.
Dr. Twyman then sought Mrs. Swope and informed her of the nurses' accusations and their ultimatum. Mrs. Swope replied: "Oh, God, do you think so? Then it must be true. The burden has been on my heart and I tried to cast it off, but I cannot do it."
It was then decided that Dr. Twyman should leave word for Dr. Hyde to call at his (Twyman's) office in Independence (Kansas) that evening, and at 8:30 p.m. Hyde left the Swope mansion for that purpose. When Hyde arrived at the office, Dr. Twyman said: "Dr. Hyde, I have a very serious and delicate matter to discuss with you, but my duty compels me to speak plainly. The fact is that the nurses believe that you are entirely responsible for the conditions in the Swope home, and they have decided that you or they must leave the house at once."
Hyde replied: "Well, that's pretty bad. Tell me all they said." Dr. Twyman then repeated the substance of his conversation with the nurses. Hyde then threatened to sue the nurses for libel, but Dr. Twyman advised him to do nothing of the kind, but to leave the Swope home as quietly as possible.
Hyde acted on this advice, and returning to the Swope mansion he informed his wife of what had transpired, and at 11 o'clock that night Hyde and his wife left for their home in Kansas City.
Although Dr. Twyman endeavored to convince the nurses that they were wrong in their conclusions, he gave instructions the next day to destroy all medicine in the Swope home, and in his testimony before the Grand Jury said: "I fully believe that someone is responsible for the poisoning and administering of typhoid germs in the Swope home."
On the same evening that Dr. Hyde was called to Dr. Twyman's office, Tom Swope escorted his sister Lucy back to Elinor Minor's home, and was returning to his mother's home about 8:30 p. m., when, within about two blocks of his mother's home, he observed another man about one block in front of him who was coming toward him. When the two men were about one block apart, the man coming from the direction of the Swope home crossed the street and when he drew near a street lamp he searched his pockets and then throwing something to the ground he proceeded to stamp it into the snow. Swope continued to walk toward his home on the opposite side of the street from this man, and when the man drew nearer to the street lamp Swope saw it was Dr. Hyde, who was then en route to Dr. Twyman's office. Swope made no sign of recognition, but passed by on the opposite side of the street, evidently without being observed by Hyde.
When the doctor passed out of sight, Swope, whose curiosity was fully aroused, hastened to where his brother-in-law dropped the article, and found a piece of a capsule. Swope was formerly engaged in testing ores in Tonopah, Nevada, and having used the cyanide process he was familiar with the odor of the drug, and he concluded that this portion of a capsule had the odor of cyanide of potassium. He took the broken capsule home and Miss Van Nuys, the nurse, who had also used this drug in cleaning jewelry, agreed that the particle of the capsule smelled like cyanide.
Attorney John Paxton was then communicated with by telephone, and he accompanied Tom Swope to the spot where the capsule was found, and they found several other particles of capsules. These were placed in an envelope and sealed, and three days later Mr. Paxton and Tom Swope took this envelope and the bottle containing the ejecta from Margaret Swope's stomach, to the celebrated Professor Ludvig Hecktoen, of the Rush Medical College, Chicago. He turned the packages over to two men of international repute, Professor Haines, of Rush Medical College, and Professor Vaught, of the University of Michigan. These men made an analysis and found unmistakable traces of cyanide in the stains on the envelope containing the pieces of capsules, and they found strychnine in the ejecta from Margaret Swope's stomach.
When the typhoid epidemic in the Swope home became the talk of Kansas City, Dr. E. E. Stewart, of that city, re-called the fact that on November 10, Dr. Hyde had procured from him five tubes containing typhoid, diphtheria and other germs for the alleged purpose of taking up the study of bacteriology. His suspicions being aroused, Dr. Stewart proceeded to Dr. Hyde's office while Hyde was making his trip to New York after Lucy Swope. Stewart found Miss Bessie Coughlin in charge of the office, and he told the young lady that his germs were dead and he desired to borrow Dr. Hyde's.
A short time before this Hyde had told Dr. Stewart that he had done very little with the germs, but Stewart afterward stated that when he examined the typhoid tube he found enough germs gone to inoculate the whole of Kansas City. He also discovered that the tube which was presumed to contain diphtheria germs had been opened, but through some mistake it contained pus germs.
It was afterward claimed that Hyde injected pus germs into Margaret Swope's arm, believing that they were diphtheria germs.
When Hyde returned from New York and learned that Dr. Stewart had obtained the germ tubes from Miss Coughlin, he reprimanded her, and on New Year's Day she was discharged.
Dr. Stewart and Dr. Frank Hall made a close examination of the Swope home, but could find no cause for the typhoid epidemic.
On September 3, 1909, Hyde purchased several five-grain capsules of cyanide of potassium from Hugo Brecklein, a Kansas City druggist, who stated positively that Hyde claimed he wanted to use them on some dogs which were bothering him, but Hyde stated that he did not say "dogs," but "bugs," referring to cockroaches in his office.
On December 30, 1909, an autopsy was performed on the body of Chrisman Swope, and although Dr. Hyde's death certificate showed that he died from cerebral meningitis, the brain was found to be perfectly normal.
Professors Vaughan and Haines found traces of strychnine and cyanide in the liver, and while it was evident that Chrisman was suffering from typhoid at the time of his death, the disease had not reached such a stage as to make death possible.
On January 12, 1910, an autopsy was held on the body of Colonel Swope. In this case Dr. Hyde certified that death was due to cerebral hemorrhage, but the brain was found to be absolutely free from the blood clots which would accompany such a condition. From what Professor Hecktoen learned of the symptoms in the death of Colonel Swope, he testified before the coroner that he believed death to be due to cyanide and strychnine poisoning.
Professors Vautrhan and Haines testified that they analyzed one-seventh of Colonel Swope's liver and found one-sixth of a grain of strychnine, indicating that the entire liver contained about one grain, or almost twice as much as was necessary for a fatal dose. Dr. Hyde refused to testify before the coroner.
On December 29, while the investigation of the mysteries of the Swope mansion were in progress, Mrs. Hyde telephoned to Dr. Stewart, who supplied Hyde with the germs, to call on Dr. Hyde at his home. When he arrived Hyde claimed that he was also a victim of typhoid, and requested Dr. Stewart to draw some blood from his (Hyde's) ear, for the purpose of making a test. It was found that Hyde had the symptoms of typhoid, but it was Dr. Stewart's opinion that Hyde had been inoculated with dead bacteria, which would bring about the symptoms of a genuine case. Dr. Stewart stated that Hyde appeared to be anxious to have it generally believed that he was a victim of typhoid.
During this alleged illness, Lenora Von Bocher acted as Hyde's nurse, and she subsequently testified that Hyde took her chart prepared during his "illness," and although it was her personal property, he never returned it to her, notwithstanding the fact that she repeatedly requested him to do so.
On January 10, 1910, John Paxton swore to a warrant charging Hyde with the murder of Colonel Swope. The doctor was arrested on the following day and released on $50,000 bond.
On January 12, Mr. Paxton wrote a letter in which he charged that Hyde was guilty of three murders and numerous attempts to commit murder. This letter was subsequently published, and as a result Hyde sued Paxton for libel and demanded $100,000 damages.
On February 15, 1910, the Grand Jury began an investigation of the mysteries of the Swope home, and on March 5 the following indictments were found against Hyde:
For carelessly bleeding Moss Hunton to death—charged with manslaughter.
Charged with murder for poisoning Colonel Swope.
Charged with murder for poisoning Chrisman Swope.
For attempting to murder Margaret Swope, three indictments were filed; one for administering typhoid germs ; one for injecting pus germs, and one for administering strychnine.
Seven other indictments were filed charging him with attempting to murder Lucy, Sarah and Stella Swope, Mildred Fox, Georgie Campton, Nora Dickson and Leonora Copridge.
Hyde was again arrested and released on $100,000 bond.
It was decided to try him for the murder of Colonel Swope, but as it was the theory of the prosecution that Hyde's motive was to eventually gain control of the Swope millions by killing the greater part of the family, the evidence regarding all the cases was admitted. The trial began before Judge Ralph Latshaw in Kansas City on April 16, 1910.
Mrs. Hyde, who was in a delicate condition at the time, remained loyal to her husband and refused to recognize her mother, brother and sisters. She expressed the belief that her husband was innocent, and it is claimed that she mortgaged property to defray the enormous expenses of the defense. She engaged Frank Walsh and four other attorneys and also several experts.
The prosecution was represented by District Attorney Virgil Conkling and four special prosecutors engaged by Mrs. Swope, who was firmly convinced of her son-in-law's guilt. Hyde pleaded not guilty.
On April 19 Dr. G. W. Twyman, one of the most important witnesses for the prosecution, died before his testimony could be obtained.
At irregular intervals up to within a week of his death Colonel Swope took a tonic of iron, quinine and strychnine, which was recommended by Dr. Hyde and sold by Overton Gentry, an Independence druggist. It was shown, however, that this tonic contained such a small percentage of strychnine that it was absolutely harmless.
Nearly fifty witnesses testified for the prosecution, and on April 27 the evidence against Hyde became so strong that Judge Latshaw ordered him into custody.
On May 4 the prosecution rested and the defense began. In referring to the cause of Chrisman Swope's death, Dr. Froehling testified that meningitis might be present and no evidence of it seen even with a microscope. He further testified that the appearance of Margaret Swope's arm was such that Dr. Hyde might have injected camphorated oil as he claimed.
On cross-examination Attorney Reed asked: "When strychnine and cyanide are administered together, does not one tend to neutralize the other's effect?"
Dr. Froehling replied that he could not answer that question. As several physicians testified for the prosecution to the effect that they had never used cyanide as a medicine, Dr. J. W. Allen testified for the defense that he frequently used cyanide for spasmodic coughs, but confessed that he never used five-grain capsules—the quantities which Hyde purchased.
Dr. W. M. Cross, although called as a witness for the defense, testified that he could find no cause for the typhoid epidemic in the Swope home. He also testified that it was possible for embalming fluid and the ammonia naturally in the body to form hydrocyanic acid in sufficient quantities to show tests for cyanide, but Professor Paul Schweitzer testified in rebuttal that this acid could only be formed in the presence of red-hot heat, and Professor H. P. Cady testified that he had recently made an experiment and that the lowest temperature that the tests would show hydrocyanic acid was 358 degrees Fahrenheit.
In examining some of the physicians the defense attempted to show that it was possible for flies to have carried the typhoid germs into the Swope home, but the prosecution called attention to the fact that "the epidemic occurred in the winter, when flies are scarce."
Professor E. E. Smith testified that it was possible that Professor Vmian mistook cinchonadyne, an integral part of the quinine in Colonel Swope's tonic, for strychnine, but C. H. Briggs, a chemist in the employ of the firm which prepared this tonic, testified in rebuttal that the quinine used in this tonic contained less than one percent of cinchonadyne.
On May 9 Mrs. Hyde testified that up to within two days of her brother Chrisman's death he took pills prepared by Charles Hatred Jordan, a Chilean yarb doctor, but it was not shown that any of this doctor's medicines contained anything of a harmful nature.
In her testimony Mrs. Hyde contradicted the nurses, Dr. Twyman and nearly all the members of her own family. She testified that her mother requested Dr. Hyde to go to New York after Lucy, and furthermore swore that Tom Swope was at home when he claimed he saw Dr. Hyde stamp the capsules into the snow. She swore that she did not request her husband to stop bleeding Moss Hunton, as claimed by Dr. Twyman and Miss Keller, the nurse.
On May 9 Dr. Hyde took the stand in his own behalf. He testified that the missing germs had been used by him in making tests, and claimed that he had been using cyanide for ten years to remove nitrate of silver stains from his fingers. He swore that the cyanide which he had recently purchased from Brecklein was used to kill cockroaches in his office.
When turned over for cross-examination Hyde became almost hopelessly tangled.
Although he claimed he had used cyanide for ten years he could not recall one place where he had procured it previous to the purchase of the five-grain capsules from Brecklein, who was produced as a witness by the State.
He claimed that he purchased it in capsules because it would retain its strength better in that form.
When asked if it would not have been more convenient to have it put in a small bottle with a glass stopper, instead of opening the small capsules when he sprinkled it around his office for the purpose of killing cockroaches, he replied that the first method suggested had not occurred to him.
He furthermore admitted that he had not informed either Miss Coughlin, his clerk, or the janitor, of the fact that this poison had been sprinkled around the office.
At the conclusion of Hyde's testimony the defense rested, and several witnesses were called in rebuttal.
Margaret Swope testified that it was true that Chrisman asked for some of Dr. Jordan's medicine two days before his death, but Mrs. Hyde could not find it, and she said to Margaret: "I'll give him some aspirin tablets. He'll never know the difference."
Other members of the family then testified as to Tom Swope's movements on the night the capsules were found in the snow, and much additional evidence was produced tending to show that he was not home, but was probably just where he claimed to have been when the capsules were smashed in the snow.
Mrs. James Clinton testified that Tom stopped at her house to use her telephone while on his way home that evening.
No sure rebuttal testimony was offered and the case was finally submitted to the jury on Friday, May 13, 1910.
After deliberating for three days the defendant was found guilty as charged and sentenced to life imprisonment.
Juror W. C. Crone's son Albert had recently been convicted on circumstantial evidence for killing his sweetheart, Bertha Bowler, and Juror Crone held out for Hyde's acquittal until after sixty hours' deliberation, when he also voted for conviction.
When the jury was discharged he said: "Hyde's own testimony finally convinced me of his guilt."
On July 5, 1910, Hyde was sentenced to life imprisonment at hard labor, but an appeal to the Supreme Court was immediately filed.
Follow-Up: According to a Kansas City Public Library article, Dr. Hyde was legally cleared on the murder charges. However, in the eyes of the Kansas City residents, he was guilty. The trials ruined his career and he later divorced his wife, Francis, who had stood by him and paid his legal fees. He died in 1934.
This is one of the most famous criminal cases in Kansas City history and more information can be found on the internet.
—###—