William M. Fredericks, Murderer, Bank and Stage Robber
Story by Thomas Duke, 1910
"Celebrated Criminal Cases of America"
Part I: San Francisco Cases
William M. Fredericks came to California in 1890. He worked for a short while as a barber in Shasta County. In the spring of 1890, he robbed a stage in Mariposa County and was sentenced to three years' imprisonment at Folsom. While incarcerated, he became friendly with convicts Frank Williams and Anthony Dalton, and shortly after being discharged, he furnished the weapons with which the jailbreak, headed by George Sontag, of the Sontag and Evans gang, was attempted on June 27, 1893, in which three prisoners were killed and several wounded. (See history of Sontag and Evans for particulars.) A few days after this, he shot and seriously wounded J. T. Bruce, a brakeman at Gold Run, Placer County, and two days later he slew Sheriff Pasco of Nevada County, at Grass Valley, as he was under the false impression that the sheriff was about to arrest him.
A circular was issued giving a description of Fredericks, and offering a reward for his capture.
On March 14, 1894, Fredericks arrived in San Francisco, and on the same night went out to Golden Gate Park and there held up and robbed a young man from Truckee named Martin Smith. After procuring $150.00 and a gold watch and chain, he struck his victim over the head with his pistol. Smith uttered a cry of pain and started to run, when Fredericks fired at his head, but Smith had placed his hand to his wounded head and the bullet penetrated his wrist.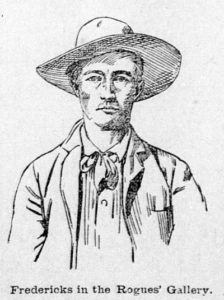 On March 23 Fredericks entered the San Francisco Savings Union Bank at Market and Fell Streets, about the noon hour, and drawing a revolver he commanded the cashier, William A. Herrick, to hand out the money. Instead of doing so, Herrick reached for a pistol, but as he did so Fredericks shot him dead. At this instant another clerk fired at Fredericks, and although the bullet missed him it shattered a pane of glass, a splinter of which flew into Fredericks' eye, permanently ruining it. The robber then fled up Market Street to Twelfth and crawled under a building.
Police Officer W. J. Shields gave chase, and as he started to crawl under the building Fredericks aimed his revolver at him and told him to stop or he would be killed. The brave officer did not hesitate, but continued and placed the desperado under arrest. When his picture appeared in the paper, Martin Smith at once recognized it as the likeness of the man who assaulted and robbed him in Golden Gate Park.
On March 24 he called at the jail and positively identified him. Fredericks then made a complete confession to Detective John Seymour of his whole criminal career.
He was convicted on the charge of murdering Cashier Herrick and was hanged in San Quentin on July 26, 1895.
—###—