The Story of Harry Tracy, Super-Outlaw
Story by Thomas Duke, 1910
"Celebrated Criminal Cases of America"
Part II: Pacific Coast Cases
In 1892, there lived in the town of Vancouver, Washington, two fifteen-year-old boys, named Harry Tracy and David Merrill. Tracy's conduct was exemplary until he met Merrill, but immediately afterward a change occurred and step-by-step he waded into crime until his deeds were the talk of the continent. At the outset, Merrill seemed to possess the mastermind of the pair, but as Tracy was an apt pupil, this soon changed, and he became the dictator.
Their first depredation consisted of the stealing of three geese from a farmer living on the outskirts of Vancouver and selling them to a poultry market. For this crime, they were sentenced by Justice of the Peace M. A. Tuson to serve twenty days in jail.
After being liberated, they purchased firearms and practiced almost daily at the Vancouver barracks until they gained reputations as expert shots. Articles were constantly disappearing from the barracks in a mysterious manner, and the army officers, becoming satisfied that these two boys were the thieves, ordered them to keep away from the quarters.
After committing numerous petty offenses, Tracy was arrested for house-breaking in Provo, Utah, and on July 10, 1897, was sent to State prison for one year.
On October 8 of the same year, he and three other prisoners were working on a drain ditch outside of the prison walls, where Tracy secured a pistol which a friend had planted there for him. With this weapon he held up the guard and made his escape.
He then joined the notorious "Robbers Roost" gang, which was operating in Colorado, and of which Dave Lent, Pat Johnson, Dave Merrill and John Bennett were members.
When this band killed a boy named Wm. Strang, the indignant citizens demanded of the authorities that they be immediately exterminated.
A posse was organized and on March 1, 1898, they encountered the outlaws near Craig, Colorado.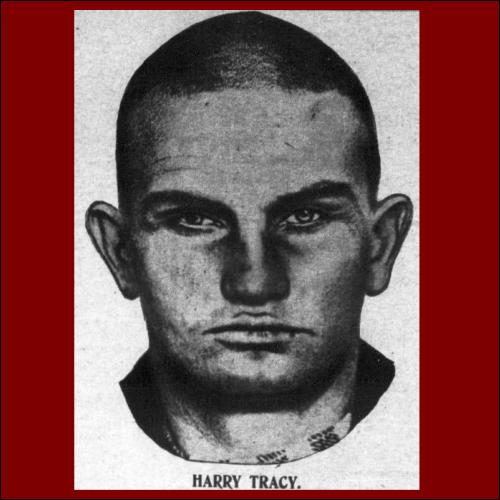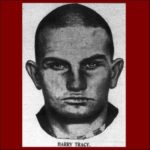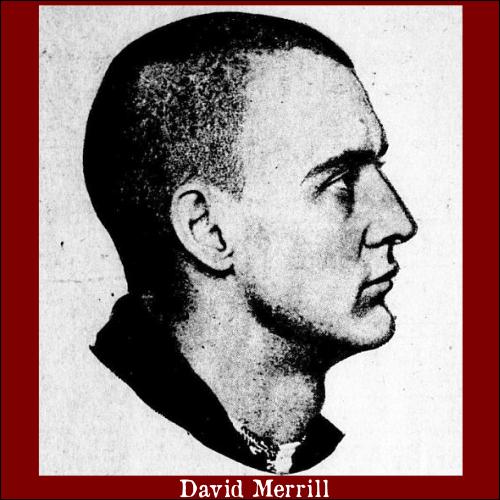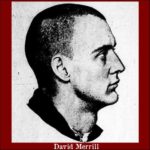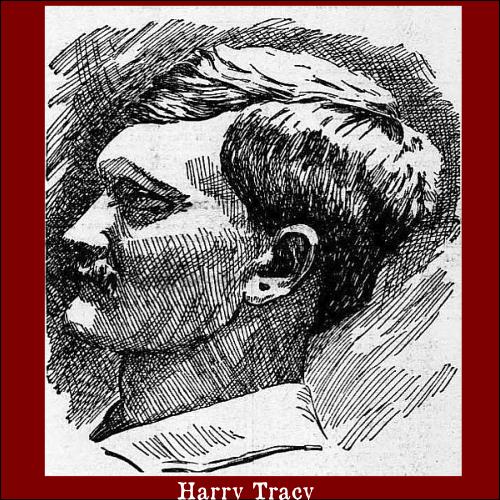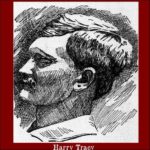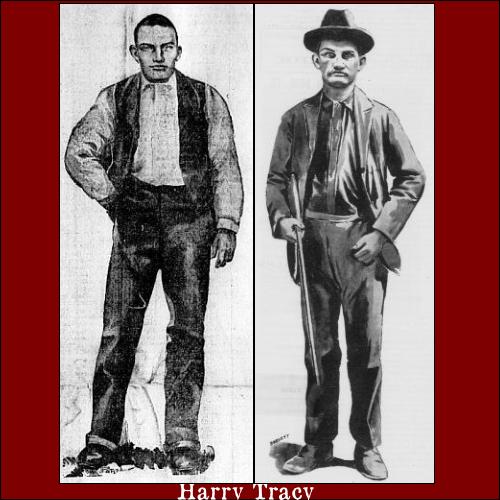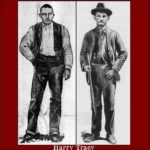 A desperate battle was fought, during which several on each side were wounded and Deputy Sheriff Valentine S. Hay was killed.
The desperadoes made their escape, but on March 4, Sheriff C. W. Neiman and posse of Routt County, Colorado, captured Lent, Tracy, Johnson and Bennett.
As the Strang boy was murdered just over the line in Wyoming, Johnson, who was accused of the actual killing, was extradited, but was subsequently acquitted because of insufficiency of evidence.
A mob seized Bennett and lynched him.
Tracy and Lent escaped from jail, but were recaptured the next day. They were then transferred to the more secure jail in Aspen, Colorado, and again escaped.
Lent was never seen again by the authorities.
Tracy joined Merrill, and in December, 1898, they returned to Portland, Oregon, where they soon had the citizens terrorized by the series of depredations they committed.
They held up and robbed a street-car, and also burglarized several saloons and stores.
On February 6, 1899, Merrill was arrested, and on the next day Detective Dan Weiner arrested Tracy after a desperate battle.
The pair were found guilty of robbery and on March 22, 1899, Tracy was committed .to the Salem prison for twenty years and Merrill for fifteen years.
They were employed in the foundry in the prison, and at 7 a.m., June 9, 1902, they were marched in line with the other prisoners to their work. It was the duty of Guard Frank Giard to count the prisoners marched in, and after doing so, Giard announced to Guard Frank Ferrell that 159 prisoners were present.
Ferrell replied "All right." Just then Giard heard a rifle shot and turned in time to see Ferrell fall dead. Tracy then turned his rifle on Giard and shot without hitting him, and Merrill fired at the other shop guard. Ingham, a life prisoner, attempted to disarm Tracy but was immediately shot and mortally wounded by Merrill.
They then fled from the building and directed their attention to the fence guards, where S. R. Jones was guarding one corner of the stockade. They both fired at Jones, one bullet striking him in the abdomen and one in the chest, and he fell dead at his post. Guard B. F. Tiffany then emptied his rifle at the desperadoes, but none of his bullets struck their mark. Tracy fired one shot at him and he fell outside the wall with a wound in his chest.
Tracy and Merrill then procured a ladder, scaled the wall and running to Tiffany, assisted him to his feet and used him as a shield until they got out of range of the other guards. They got in a position where they could be observed from the prison and deliberately blew the top of Tiffany's head off and then disappeared in the timbers.
Posses of peace officers and citizens were at once organized and rewards were offered for the bodies of the convicts. It is said that Tracy and Merrill obtained their sawed-off rifles in the following manner:
On May 20, 1892, Harry Wright was released from the Salem prison and carried with him a letter from Merrill to a relative. It was apparently only a short note, not covering more than one-half of the paper, but underneath it was a note written in invisible chemical ink, in which he requested the relative to provide the bearer with money for reasons which would be explained later.
Wright also stole a horse and buggy in Portland, which he sold to assist in raising funds. He purchased two high-grade rifles with short barrels and a quantity of ammunition, which were smuggled into the prison the night before the break.
On the day following their escape, Tracy and Merrill entered Salem, Oregon, at 10 p. m., and held up a man at the point of a rifle and took his clothes. They then stole an overcoat and two horses and continued on their way north. Their next appearance was in the town of Gervais, twenty miles north of Salem, where they demanded and procured food and held up two deputy sheriffs and took such wearing apparel from them as they needed. Learning that a posse was en route to Gervais with bloodhounds, they returned toward Salem, remaining in the woods in the daytime and at night they entered the town, and accosted a citizen named J. W. Roberts as he was entering his home. They took his clothes (the object being to change as often as possible), and then ordered him to go in his house and remain there until daylight under pain of death.
Early on June 13, they broke through a cordon of militia and deputy sheriffs near Gervais and a few hours afterward stopped at a farm near Monitor, which was owned by a man named H. Aikus. They ordered the women folks to prepare a breakfast, and supplied themselves liberally with eatables and cooking utensils.
On June 15, the bandits stole a team from G. R. Randall, near Oregon City, and on June 16 they appeared at the farm of Chas. Holtgrieve on the Columbia River and demanded dinner. There were five men in the house at the time and the convicts made them all enter a boat and row them across the Columbia River. On June 17, about 6 a.m., they appeared at the cabin of a rancher named Reedy, about four miles back of Vancouver. They bound and gagged him, took his clothes and left him lying on the ground.
From June 17 to July 2 little was heard of the bandits, but on the last named date Tracy appeared at the Capitol City Oyster Co.'s place at South Bay, near Seattle. He entered the home of Horatio Alling, while another man named Lattrige was present.
Tracy made known his identiy, and ordered them to prepare a meal. In the meantime, a Frank Scott and John Lesinger came in. Tracy then ordered all four men to stand facing the wall with their hands up while he prepared his own breakfast. At this time, Captain Clark of the gasoline launch "N. and S." and his son entered the house, and they also joined the "wall flowers." While eating his breakfast, Tracy learned of Clark's launch, and after satisfying his appetite ordered all present to accompany him to the launch. On the way, he stated that he had killed his partner in crime, Merrill, because he showed evidence of a faint heart. He said that they had agreed to fight a duel and that it was arranged that they should place back to back and at a signal each should step out ten paces and turn and fire.
At the eighth step, Tracy turned and killed Merrill by shooting him in the back. He claimed that this occurred about four miles south of Chehalis, Washington, on June 28. An investigation proved his statement to be true as the body of Merrill was found thrown head first over a log.
When Tracy and his involuntary companions reached the launch, he ordered them all into the boat and instructed Clark to proceed with the party to Meadows Point, near Seattle. At this place, they disembarked, and Tracy ordered one of the party to take a rope from the launch and bind the rest of the party. This done, he compelled this man to accompany him to a place called Ballard, six miles from Seattle, and then ordered him to leave him and to proceed along an isolated path and say nothing of what had transpired.
July 3 proved to be the red-letter day in the career of this arch-criminal. His marvelous luck and cunning remained with him, and, as usual, he escaped unharmed.
At 3:30 p. m. he encountered a posse at a place called Bothell, near Seattle, and by quick maneuvering he gained an advantageous position and opened fire on the posse before they were aware of his presence.
He only fired five shots. With the first he instantly killed Deputy Sheriff Chas. Raymond. Another ball splintered the stock of Deputy Sheriff Jack Williams' rifle, and the ball entered his breast. He then wounded others in the party and escaped.
Later in the day, Tracy met an aged farmer who was driving a team along the outskirts of Seattle. He seized the team, made a prisoner of the old man, and then drove up to the residence of Mrs. R. H. Vanhorn, located near Woodland Park, Seattle. He fastened the team and forced his aged prisoner to accompany him into the lady's home and ordered her to cook a meal for him. Tracy did not watch this lady very closely and therefore did not observe that a butcher boy called at her door for orders. Mrs. Vanhorn whispered to the boy that Tracy was there and the boy rushed back to Freemont, a suburb of Seattle, and notified Sheriff Cudihee and Policeman Breese of the fact. These men, accompanied by C. J. Knight and Neil Rawley, armed themselves and, proceeding to Mrs. Vanhorn's house, they secreted themselves within view of the entrance. Presently, Tracy stepped out with the old man on one side and another man on the other.
The officers could not shoot without endangering the lives of innocent persons, so Breese called out: "Tracy, drop that gun." Quick as a flash the bandit fired and killed Breese instantly. With the next shot he mortally wounded Rawley. He continued to use his involuntary companions as shields until he reached a place of safety, when he dismissed them and disappeared.
On July 5, he entered the home of a Fisher family, near Pontiac, and acting under his orders, they prepared his breakfast. While he was eating he stationed the family by the door. It is needless to state that he now had the entire country terrorized and a great many amusing stories are told of posses of citizens which boldly started to find him, but on learning of his whereabouts, stampeded in the opposite direction.
On Saturday, July 6, Tracy appeared at Meadow Point, on the water front, three miles north of Seattle. Here he met a Japanese fisher boy whom he forced to row him twelve miles to Madison Point, where the boy was dismissed.
The bandit then proceeded to the home of Farmer John Johnson. By employing the usual tactics of announcing his name and displaying his weapons, Tracy terrorized the family and then requested Mrs. Johnson to prepare his breakfast. There was a large, powerful man named John Anderson employed at this farm, and after breakfast Tracy procured ropes and bound the Johnson family and then ordered Anderson to accompany him. From that time until the following Tuesday, Anderson was a mere slave and beast of burden for the bandit.
Tracy forced his companion to row him down the sound, and on the next day the boat they used was found in a clump of bushes in Miller's Bay. When they reached land, Tracy compelled Anderson to carry the blankets and provisions, and while Tracy slept, or ate, Anderson was bound to a tree.
On Monday, after a long tramp, they entered the woods from which the notorious desperado, Tom Blanck, emerged, only to be killed.
At the Black River bridge, Tracy met four friends, evidently by appointment.
On Monday night Anderson was again bound to a tree, and on Tuesday the pair proceeded to Gerrell's home, two miles from Renton, Wash. Tracy went into the kitchen, and after ordering a meal, began joking with the women folks. Gerrell's home was near the railroad track and presently a train came along bearing one of the numerous posses which were scouring the country for the outlaw. As the train stopped, Tracy took Anderson into the woods and bound him to a tree. The bandit then escaped, and shortly afterward Anderson was found and released.
On July 10, Tracy called at the ranch of M. E. Johnson, near Kent, fifteen miles from Seattle, and ordered him to go to Tacoma and buy him a 45-calibre revolver and 100 cartridges. He told Johnson that if he betrayed him, he would slaughter his entire family, which remained with Tracy at the farmhouse during his absence. Needless to say, Johnson kept faith and at night Tracy appropriated one of Johnson's horses and an ample supply of food and departed.
On the night of July 11 Tracy was surrounded near Covington. Just before daylight, he approached the lines in such a careless manner that the guards thought he was one of their party. During the night he had evidently crept up and overheard the name of one of the guards, and on being challenged gave that name, and had succeeded in passing through the lines before the mistake was discovered. Eight charges of buckshot were sent after him and Tracy fired one shot in return, but no one was injured.
On Sunday, August 4, an eighteen-year-old boy named G. E. Goldfinch was riding a horse near the Eddy ranch, about eleven miles from Creston, Wash., when he observed a man who was evidently camping in the woods. The stranger stopped him and after stating that he was Tracy, directed the youth to conduct him to the nearest ranch. Goldfinch escorted him to the Eddy ranch, where Tracy commanded that no person would be permitted to leave the ranch night or day without his permission. So terrorized were the persons addressed that they made no effort to disobey his order.
On Monday, Goldfinch was permitted to go, but was warned to say nothing of what had transpired. The boy paid but slight attention to the admonition and as a result a posse was organized in Creston, which consisted of Deputy Sheriff C. H. Straub, Dr. E. A. Lanter, Attorney Maurice Smith and Joseph Morrison, a track foreman.
On August 6, 1902, they proceeded to the Eddy ranch, where they saw a man come out of a shed whom they suspected was Tracy, but not being positive they refrained from firing. Mr. Eddy was seen working in the field, so one of the posse approached him without being observed by the suspect. Eddy informed him that the man was Tracy. Eddy then arranged to drive his team to the barn.
During his stay on this ranch, Tracy volunteered to do his share of the work, so when Eddy appeared at the barn, Tracy came out to assist in unhitching the horses. While he was thus occupied, the posse appeared in full view. They commanded the outlaw to surrender, but instead of obeying the command, Tracy used Eddy and one of the horses as a shield until he reached the barn, where his rifle was hid.
He then slipped out of a side door and dashed into a wheat field. At every motion of the wheat the posse fired a volley in that direction. Finally Tracy fired one shot and then all was silent.
Shortly after this, Sheriff Gardner of Lincoln County appeared on the scene with his son. After a conference it was decided not to venture into the field that night, so it was surrounded until the following morning. They then made their way through the grain and found that Tracy had committed suicide by blowing off the whole side of his head with his huge revolver.
An inspection of the body showed that one of his legs had been shattered by two rifle balls fired by the posse. He attempted to stop the flow of blood with a bandage, but as further flight was impossible, he realized the hopelessness of further combat with the determined posse, and therefore made good his boast that he would never be taken alive.
His body was taken back to Salem Prison, for the double purpose of having it officially identified and to demonstrate to the convicts, who looked up to Tracy as a hero, the folly of attempting to follow in his footsteps.
The reward for Tracy, dead or alive, was $4,100.00.
Further Reading: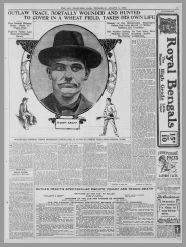 Harry Tracy Biography, San Francisco Call, August 7, 1902, pages 9-10.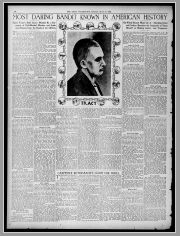 Harry Tracy Biography, The Times, Washington, July 20, 1902, page 10.
—###—