The Murder of Bill Poole, 1855
Story by Thomas Duke, 1910
"Celebrated Criminal Cases of America"
Part III: Cases East of The Pacific Coast
In 1855, the secret political party known as the "Know Nothings" was very powerful in New York City.
Bill Poole, a physical giant and champion rough and tumble fighter, and Tom Hyer, who was regarded as the champion of the American prize ring, were the recognized leaders of the sporting element in this party, while fighter John Morrisey, who afterward defeated John C. Heenen in the arena, Louis Baker, James Turner and Patrick McLaughlin, alias Paudeen, led the same element in the Democratic party. Between these two factions of the sporting fraternity a most bitter animosity existed.
One night in January, 1855, Tom Hyer was in New York City tavern, when Turner and Baker entered and began calling the fighter vile names. Hyer returned the insults, whereupon Turner drew a pistol and fired, inflicting a flesh wound in the boxer's neck. Hyer then drew his pistol, turned around and fired at the wall, and placing the weapon back in his pocket he knocked down both Turner and Baker with his fists and then dragged Baker out into the street. As an officer appeared on the scene at this time, the disturbance ceased but no arrests were made.
The occurrence created great excitement and the adherents of both factions armed themselves in anticipation of further trouble.
Poole challenged John Morrisey to participate in a rough-and-tumble fight at Christopher-Street pier. Morrisey accepted, but when he arrived at the location, a gang knocked him down and beat him unmercifully.
He nursed his wrath until the evening of February 24, 1855, at which time he was drinking with some friends in a rear room in Stanwix Hall. Hearing Poole's voice in the main bar room, he rushed out, and after pouring out a torrent of abuse, he drew a revolver, pointed it at Poole's head, and fired three times. Poole then drew a pistol but refrained from using it after being reminded that Morrisey's weapon was useless. Officers were summoned and both men were arrested but bailed out at once.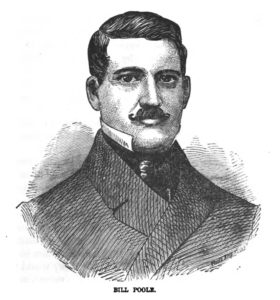 Morrisey went home but Poole returned to Stanwix Hall, where he remained until midnight. At that hour, Baker, Turner and Paudeen entered the place, and Paudeen walked up to Poole, and after saying, "What are you looking at, you bastard," spat in the fighter's face. Poole then offered to bet that he could whip any one of the gang. Baker cried out, "Sail-in" at the same time drawing a pistol. With the first shot he accidently shot himself in the arm and for some reason fell to the floor. While in that position he fired again, the bullet passing through Poole's leg. The fighter fell and then Baker shot him through the heart. Baker then jumped up and he and his gang fled. Notwithstanding the nature of his wound, Poole staggered to his feet and, seizing a knife, he pursued his assailant a few feet, but fell at the entrance to the hall. His vitality was so great that he lived for fourteen days with a bullet wound in his heart. He died believing that Morrisey was responsible for his assassination.
Morrisey, Baker, Turner and Paudeen were indicted for this crime and the trial of Baker took place in Judge Roosevelt's court. As the indignant law-abiding citizens complained bitterly of the lawless conditions then prevailing, which they attributed largely to lack of diligent prosecution, Attorney-General Ogden Hoffman personally represented the State.
Baker's first trial lasted fifteen days and resulted in the jury disagreeing. As he was tried twice again with the same result, the cases of all the defendants were dropped from the calendar.
Paudeen, who spat in Poole's face, entered Butt Allen's Dance Hall on the early morning of March 20, 1858, where he assaulted a man named Cunningham, who drew a pistol and killed him. The jury disagreed in Cunningham's case and he was liberated.
Note: Poole was the inspiration for the character of William "Bill the Butcher" Cutting (portrayed by Daniel Day-Lewis) in Martin Scorsese's 2002 film Gangs of New York. Although the film's Cutting incorporates many aspects of Poole's character and history, he is depicted as living through the Civil War, being killed during the New York City Draft Riots of 1863, which occurred eight years after Poole's death.
Read More at: https://en.wikipedia.org/wiki/William_Poole
—###—