The Butler Did It, 1896
Frank Miller, Alias Heifler, Who Inveigled a Tramp into the House Where He was Employed and Claiming He was a Burglar, Killed him to Gain a Reward from His Employer
Story by Thomas Duke, 1910
"Celebrated Criminal Cases of America"
Part I: San Francisco Cases
About 3 a. m., February 14, 1895, Mr. Samuel Salomon, who was residing in the residence of Julius L. Franklin at 2930 California Street, San Francisco, heard pistol shots in the basEment. He ran down stairs and found the side door open and the butler, Frank Miller, lying on the floor.
Miller was apparently suffering great pain in the region of the abdomen. He stated, between gasps, that he had heard someone at the side door, and upon opening it was struck un the head with some blunt instrument and kicked in the stomach.
He claimed that he then fired his pistol in self-protection and his assailant fled.
Mr. Franklin, his employer, had full confidence in Miller's honesty, and to show his appreciation of his butler's "bravery," presented him with a watch valued at $75.00 and $200.00 cash.
Miller then pretended to have a desire to leave Mr. Franklin's employ, as he expressed a fear that the "robbers" would return, but the family was exceedingly kind to him and finally persuaded him to remain.
Exactly one year afterward, about 5 a. m., shots were again heard in the basement, and upon making an investigation, a man who was afterward identified as Billy Murray, of Butte City, Mont., was found dying in the back part of the basement with a bullet hole in his head. Miller was lying on the floor, apparently unconscious, with a bullet wound in his neck.
When he was "sufficiently revived" he told a weird tale in regard to hearing Murray enter the house, after breaking a small piece of glass out of the back door, and that he shot in self-defense, killing the alleged burglar.
Captain I.W. Lees investigated the case, and in addition to proving the impossibility of Miller's story, it was shown that he met Murray near Portsmouth square and inveigled him out to Franklin's house, evidently claiming that he was lonesome, and Murray, being out of work and penniless, was glad to partake of his "hospitality."
Miller no doubt had in mind the generous manner in which Mr. Franklin had rewarded his "bravery" on a previous occasion, and undoubtedly thought the time was ripe to reap further golden rewards.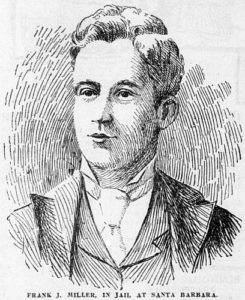 The wound in Miller's neck was probably made by grasping the loose skin under the jaw and pulling it away from the neck as far as possible, at the same time raising the pistol with the other hand and shooting through the skin. Powder marks on the left hand also tended to bear out this theory.
Mr. Franklin at first declined to believe the police theory and refused to assist in a prosecution, but he subsequently changed his mind regarding Miller's innocence.
Miller, who was never prosecuted, left San Francisco, and went to Santa Barbara, where he committed a fiendish assault on a young girl, for which he was sent to State Prison on December 9, 1896, for five years.
—###—