Martha Bowers, who Murdered her Husband with Arsenic, 1903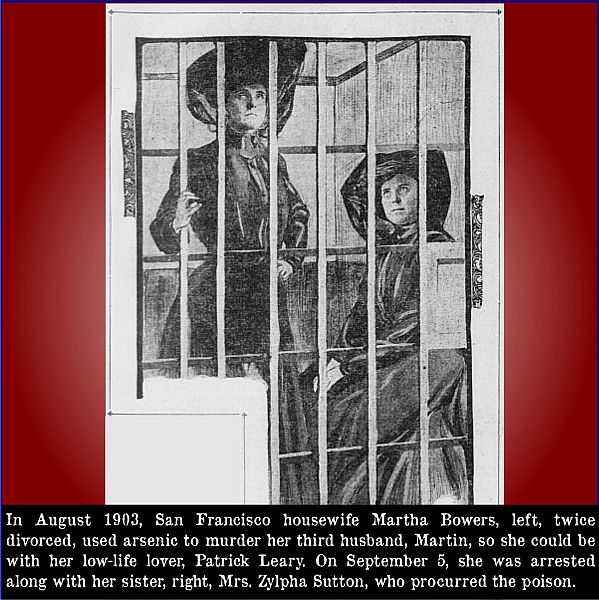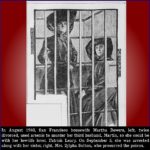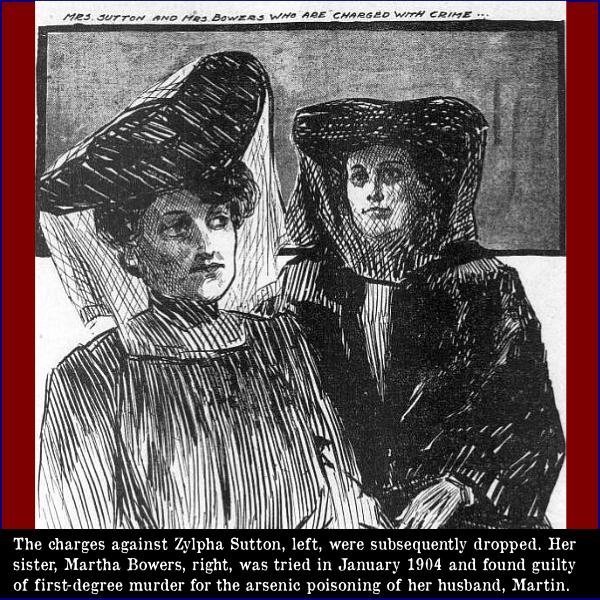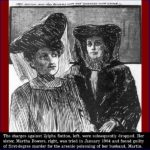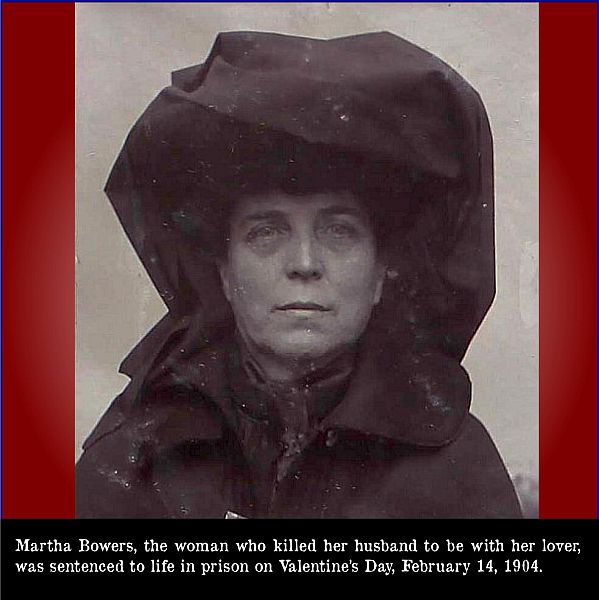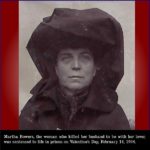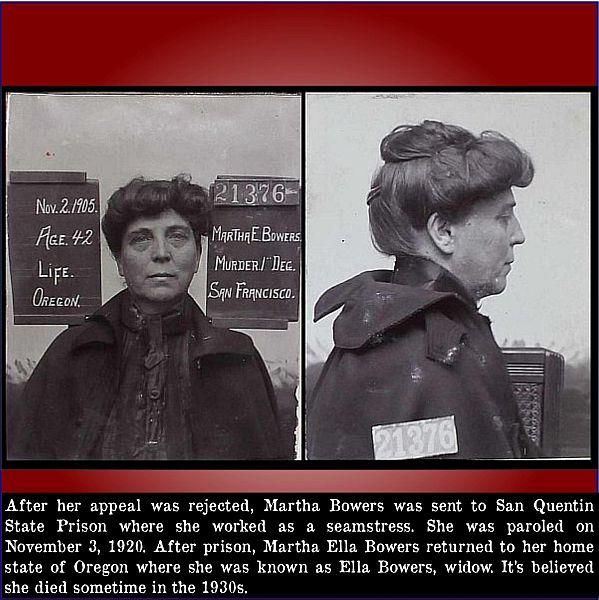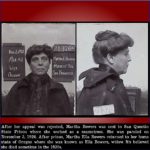 Story by Thomas Duke, 1910
"Celebrated Criminal Cases of America"
Part I: San Francisco Cases
In 1889, Miss Martha Byers, daughter of Mrs. Elizabeth Byers, a highly esteemed lady residing in Portland, Oregon, married an elderly man named Dale. After being married one year she procured a divorce and shortly afterward married Alfred Allen. She only remained with him a short time when she procured a divorce, and in 1902 she married Martin L. Bowers, a bridge builder, residing in San Francisco. They lived at 370 Clementina Street, and on June 5, 1903, Dr. Carl Von Tiedemann was called in to prescribe for Bowers. Mrs. Bowers gave him a history of the case, and stated that she attributed his sickness to ptomain poisoning caused by eating some ham. The doctor made a diagnosis and treated the patient for that affliction, but because of a misunderstanding with Mrs. Bowers over financial matters, he dropped the case. Dr. J. F. Dillon was the next physician called, and from in-formation received he also concluded that the patient was suffering from ptomain poisoning, and prescribed accordingly. After a few visits the patient apparently improved and he ceased to call.
A few days afterward Bowers became very weak and Dr. A. McLaughlin was called in. After hearing Mrs. Bowers' statements, he agreed with the other physicians, but insisted that the patient be removed to the Waldeck Sanitarium forthwith. Although the doctor was greatly puzzled by some of the peculiar symptoms of his patient, still his suspicions were not aroused as Bowers, after a month's treatment, was convalescent, and at the earnest solicitation of his wife, he was removed to his home. The doctor instructed Mrs. Bowers to give her husband massage treatments daily, and about a week afterward he called at their home and learned that his instructions had not been obeyed. On examining Bowers, he became alarmed at his condition and ordered him removed to the German Hospital forthwith. Bowers sank rapidly and passed away on August 25, 1903. As soon as he was pronounced dead, the widow threw herself on his body and became "hysterical."
Harry Bowers, who was the brother of the dead man, and who knew something of Mrs. Bowers' character, concluded that "something was wrong." He therefore communicated with the coroner and demanded an investigation, with the result that the dead man's stomach was turned over to City Chemist Frank Green and Dr. Chas. Morgan, a toxicologist, for analysis. In their report they stated that they found four grains of arsenic undissolved and they furthermore ridiculed the theory that Bowers died from ptomain poison through eating ham, for the reason that the ham would not carry ptomains because of the fact the salt and creosote used in curing it would tend to destroy the poison.
This report was given great publicity and the question arose as to who administered the poison and where and how it was procured.
The answer, in part at least, was furnished by a druggist named J. C. Peterson, who was employed at Fifth and Clementina Streets. He described a woman who called at his store on the afternoon of August 20 with a prescription purporting to be signed by Dr. A. McLaughlin, which simply called for "arsenic." As it was not written on a physician's blank and as the amount of arsenic to be furnished was not specified, it naturally caused the clerk to ask the woman several questions and pay particular attention to her appearance.
The description did not fit Mrs. Bowers, but it did fit her sister, Mrs. Zylpha Sutton, and upon being brought before her, the druggist immediately identified her.
The prescription was then procured and it showed where the druggist had written on the original the amount of arsenic delivered.
Upon searching Mrs. Bowers' home, a composition book belonging to a school boy named John Baptiste was discovered, and the page was found from which the paper used in writing the prescription was torn.
In the same book were a number of songs, admitted to be in the chirography of Mrs. Bowers. Theodore Kitka, the handwriting expert, swore that the person who wrote the songs also wrote the prescription on which Dr. McLaughlin's name was forged. It was also proven that her mourning robes were prepared before her husband died and to prove that her heart was "bursting with grief" when she threw herself on her husband's corpse immediately after death, she was afterwards forced to admit that she proceeded to her home within two hours after he died and then began a two-day carousal with one Patrick Leary.
Notwithstanding the fact that this man was illiterate and of repulsive appearance, Mrs. Bowers was undoubtedly infatuated with him and it was the theory of the prosecution that her motive for killing her husband was to free herself from a man who had become obnoxious because of his strenuous objections to Leary's attentions to her.
Detective Sergeant Thos. Ryan and District Attorney Byington had charge of the case, and as soon as the evidence began to accumulate against Mrs. Bowers, she and her sister, Mrs. Sutton, were placed under police surveillance. On August 28 they were arrested and subsequently charged with the murder of Bowers. At the conclusion of the preliminary examination Mrs. Sutton was released because of insufficiency of evidence, but Mrs. Bowers' trial began on January 14, and she was found guilty of murder on January 20, 1904. On February 14 she was sentenced to life imprisonment.
—###—