Erland H. Soderberg, Matricide, 1907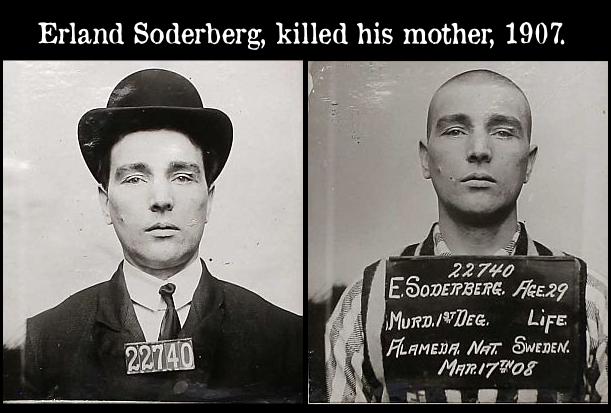 In March, 1907, Erland H. Soderberg, who was employed as a pile driver in San Francisco, resided at 463 B Street, Oaldand, Cal., with his aged mother.
On the evening of March 23, 1907, he returned home from work somewhat intoxicated, but the next morning he returned to his work in San Francisco as usual. During the day the neighbors heard Mrs. Soderberg's cat crying constantly, and as the old lady had failed to make her appearance that day, they decided that she must have gone out without feeding the cat, which would be most unusual.
One lady took some food into Mrs. Soderberg's kitchen for the cat, and noticed that the floor showed evidence of having been washed, evidently on that morning. Ashes of burned rags were also found in the stove. The matter was reported to the Oakland police and Detectives St. Clair Hodgkins and Flynn were assigned to the case. On inspecting the premises they found the badly mutilated body of Mrs. Soderberg crowded into a small closet.
The detectives arrested the son on his return from work that night, and under their skillful questioning, he broke down and confessed that in the heat of an argument, he slaughtered his mother with a butcher knife, jammed the body into the closet, washed up the floor and burned the blood-stained rags.
He was convicted and on May 17, 1907, was sentenced to San Quentin State Prison for life.
—###—