Badge of Dishonor, by Jere Joiner
Home
|
New Books
| Badge of Dishonor, by Jere Joiner
Badge of Dishonor, a new book by retired Shreveport detective captain Jere Joiner, recounts the murder and cover-up of a young advertising executive and former Shreveport Times reporter by a hit man hired by the city's commissioner of public safety.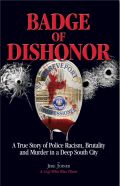 The book describes in chilling detail events leading up to the 1976 shotgun slaying of 36-year-old Jim Leslie shortly after he stepped out of his car in a Baton Rouge motel parking lot, and how Joiner became the next target of the commissioner's veiled threats and intimidation. Leslie had exposed Commissioner George D'Artois' misuse of public funds, sparking a scandal that tore Shreveport apart, burned its way into the collective conscience of its citizens and shook the political foundations of the state.
Badge of Dishonor takes place in a Deep South city of 164,000 residents, evenly divided between whites and blacks, where police and the white establishment ruthlessly enforced segregation. Blacks had few rights and little hope of a better life, and retribution was swift and fierce for those who crossed an invisible racial line.
First elected in 1962, D'Artois conducted a one-man reign of corruption and terror during the latter part of his 14-year reign as commissioner of public safety, shaking down local businesses, associating with mobsters and threatening to kill those who crossed him, including other police officers. The white establishment looked the other way and tolerated D'Artois' excessive gambling and drinking as long as he kept the black population in check.
Leslie had managed D'Artois' third reelection campaign in 1974, and a grand jury probing his corrupt activities wanted firsthand information about $6,000 in city checks issued to cover these personal services. He was scheduled to testify as a star witness, but the commissioner made sure that never happened.
Joiner, who served 20 years as a Shreveport patrol officer, captain of detectives and unofficial pilot for the city, became ensnared in a web of corruption when the commissioner ordered him to charge three personal flights to the city. He feared for his life when D'Artois initiated a series of menacing phone calls strongly intimating that he should lie to the grand jury about these trips and practically promising him the police chief's job if he did.
The book's climactic moment occurs in a tense confrontation between the commissioner and Joiner, neither one knowing what the final outcome would be. Joiner was prepared to shoot his boss if meant saving his own life.
Badge of Dishonor paints a portrait of a police officer's life in an environment of racism and corruption through stories harrowing and heroic. Among them the tragic death of a young officer shot and killed in the line of duty, the deliberate, cold-blooded murder of an innocent black man by a racist cop who pulled him over on a bogus traffic violation, and a bank holdup where the robber systematically went down the line shooting tellers in the back as they lay on the floor.
True Crime Book: Famous Crimes the World Forgot Vol II, 384 pages, Kindle just $3.99, More Amazing True Crime Stories You Never Knew About! = GOLD MEDAL WINNER, True Crime Category, 2018 Independent Publisher Awards.
---
Check Out These Popular Stories on Historical Crime Detective
Posted: Jason Lucky Morrow - Writer/Founder/Editor, January 24th, 2014 under New Books.