The Price of His Inheritance, 1995
Home
|
Feature Stories
| The Price of His Inheritance, 1995
This story is newer than most, but it's also better than most, in the worst ways possible.
New Year's Eve is a celebration of hope. For most, that hope is a resolve we make to begin again. To renew ourselves. To improve who we are, and be better than we were. To make resolutions, set new goals, and to achieve what we could not in the past. Hope like that flies a little higher for those who just want the world to be a little nicer to them in the New Year.
But it doesn't always work out that way. On New Year's Eve, Sunday, December 31, 1995, residents of Bastrop, Louisiana, were horrified to learn that an elderly couple, well known in the community, were found shot to death inside their modest home on Collinston Road. The bodies of Lee Elvin Morris, 69, and his wife, Helen Louise Morris, 68, were discovered by their son, Mark Morris, 39. The day before, on Saturday, December 30, Mark had dropped off his son, Ryan Mark Morris, 9, to spend the night with his grandparents. His parents were there, but his son was gone.
Because the bodies were found on New Year's Eve day, a Sunday, and search teams looking for Ryan were deployed on Monday, New Year's Day, January 1, 1996, most Louisianans did not learn of the tragedy until Tuesday, January 2. Northern Louisiana is sparsely populated with small cities and towns where local newspapers offices were closed for the holiday.
However, the lack of initial news coverage didn't even matter. What did matter, investigators soon discovered, was that the bodies of Lee and Louise Morris were discovered on the last day of the year.
On Wednesday, January 3, the Associated Press released an article by an unnamed reporter who traveled to Bastrop the day before to cover the story. One of the few people he interviewed was Mark Morris, who spoke a little too freely.
"I came in and the door was open. I walked in the house and found my mom and dad lying face down in the master bedroom."
Mark added that when he saw his parents, the blood on their faces was only a small amount, and he couldn't tell if they had been shot or stabbed to death. Before his interview was over, Mark made a strange comment that raised eyebrows across Louisiana.
"Somebody has killed my family and taken my boy," he began. "If they took my little boy and killed him, there's not going to be any plea bargaining. There's going to be no plea bargaining to recover his body."
Recover his body?
As investigators, reporters, and even his friends would soon learn, that bizarre, 'why would you say that?' remark was only the first time he did so during the case. It would happen forty more times.
Forty.
Stranger still, the AP article appeared at the bottom of page 30 of Alexandria's Town Talk newspaper. The second article above the Morris case was an ironic coincidence nobody would understand until much later.
"More than 24 new state laws now in effect"
One of those laws was the catalyst to the entire case. Remember that for later.
On the same day Mark's odd remark began appearing in newspapers, another news story said that authorities had questioned him and named him a suspect. Mark shrugged it off, said the questions were routine, and his suspect status was part of the process. "They say it's normal because if they catch the guy, his attorney will scream 'Why haven't y'all investigated the family?'"
What Mark did not understand was that he had unsavory reputation within his own family and among many others scattered throughout Bastrop's population of 13,500 at the time. (It has since dropped to 10,023 in 2019).
The Morris family was well known in Bastrop. Mark's father, Lee, was born there in 1926, lived there his whole life, and died on the same day as his wife. Lee's own father and mother, Avery and Mae Bell Morris, also lived in Bastrop and died there together on the same day as well, July 15, 1977. It's unclear how Mark's grandparents happened to die on the same day, but all four of them, Avery and Mae Bell, and Lee Elvin and Helen Louise, were laid to rest at Bastrop's Christ Church Cemetery.
Lee and Louise had two children together, Linda (Morris) Stewart, born in May 17, 1954, and Mark B. Morris, born April 3, 1956. In 1995, Linda Stewart, lived in Bastrop with her three children.
Mark was married for thirteen years until his ex-wife, Norma, divorced him in 1991—a few years after she suffered a debilitating stroke. She returned to her hometown of Minden, Louisiana, where she could be closer to her family whom she needed. Unfortunately, her long-term illness forced her to leave behind the couple's two children. Kristy Morris, fourteen or fifteen, and Ryan, nine, were left in the care of her ex-husband Mark. With many of his family members living there, perhaps she counted on her in-laws more than she did her ex-husband.
+++
For all that January, authorities were focused on finding Ryan, and unmasking the killer. For some reason, as indicated by newspaper reports, none of them ever considered that Ryan might still be alive. When his own father blundered by saying there would be no plea bargain for Ryan's body, Morehouse Parish Sheriff Frank Carroll and his deputies understood they were looking for the boy's body.
However, the terrain where a body might be hidden outside of Bastrop was difficult to explore. A leading member of the search team told reporters that in some areas, they could not get in there with a horse, and in others, they could not get there on foot. It could take a while, he cautioned.
The owner of an oxidation pond behind the couple's home was dragged when the owner, Ray Wall, found suspicious disturbances in the soil. "There was evidence someone had been around that pond," Wall said.
He may have been right.
On January 27, Ryan's pajama clad body was discovered by a local teenager in a drainage culvert below the Naff Street Bridge, three miles from his grandparent's home on Collinston Road. He had been shot once in the head with a .22 caliber firearm; just like his grandparents.
For nearly four weeks, hundreds of local and parish residents had searched for the reddish, blond haired Ryan Morris. It ended how they expected it would. With that mystery gone and the unimaginable grief began to settle in their hearts, those same people "bedecked the town in little yellow ribbons."
Click to view larger images.
One month later, on February 27, around 11:30 a.m., Mark Morris was arrested by parish deputies inside of a convenience store on Collinston Road that had been a gathering place for all those who searched for his son. Across the street was his parents' home: quiet, empty, and impossible to look at without imagining what happened in there.
When deputies walked up and began reading him his rights, Mark Morris looked like he was in shock, but he regained his composure later that day during a court hearing. Inside the courthouse, he showed no emotions and when he was led out, told somebody he knew, "Bring me cigarettes," and smiled.
On Thursday, February 29, he was indicted by a grand jury for three counts of murder.
Finally able to reveal more information, Sheriff Carroll gave reporters some interesting details he could now share.
The first was that Mark was their number one suspect from day one, but they also had to consider his ex-wife, Norma, a suspect. She hated her ex-husband and when told by an FBI agent that Mark had been arrested and indicted for three counts of murder, Norma said her expectation all along was that he would be charged with the crime.
"I was just waiting for police to arrest him," she said. Norma also made it clear that if he were found guilty, the only acceptable punishment for what he did to her son, and her former in-laws, would be the death. "He should be sent to the electric chair."
The most interesting part of the investigation was the self-incriminating comments Mark had made before his arrest. A witness told deputies, and repeated at his trial, that when Mark was riding in his pick-up, they drove over the Naff Street Bridge, and Mark said, "My son could be under this bridge right here!"
Besides speculating on the exact location his son was later found, his friends were disturbed by other things he said.
One friend recalled that Mark had said he was going to be written out of his father's will, and that the new one would go into effect January 1, 1996.
"That's why I shot him, the dumb ass," Mark said.
Another self-incriminating remark he made to a friend before his son's body was found was that it might have been discovered in a shallow grave, but "that was before I moved him." (He moved the boy several times, apparently).
Mark told friend Harvey "Scooter" Goleman that he had shot his dad in the eye, and his mother in the temple.
Those weren't even the most heartless things he said before he was arrested. Bill Hall, an employee of a small local casino, said he saw Mark Morris there Saturday night, the day he dropped his son off with his parents. Morris was playing video poker and the two had a brief chat.
When he spoke again with Mark a few days after his parents were discovered, "I asked him if they were still looking behind (Lee and Louise Morris') house, and he said, 'They're wasting their time looking there because they're going to find him about three miles from here…. I don't think it. I know it,'" Hall repeated.
Those were just a few of the self-incriminating statements Mark Morris blurted out. By January of 1997, Mark was up to forty. A few weeks earlier, a pretrial motion was held before State District Judge John Joyce who was asked to decide on the admissibility of those forty statements. The prosecution wanted them in, the defense wanted them out.
Judge Joyce filed his decision on January 18; thirty-six statements were in, four were out.
But 1997 was just a passing year on the long road to Mark's trial. Firing lawyers and using every delaying tactic he could find, including a change of venue to Lake Charles, 220 miles south of Bastrop, Mark's trial finally began on October 18, 1999—three years and nine months after he murdered his son and his parents.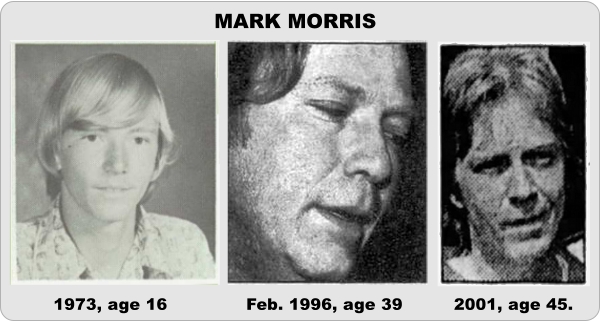 District Attorney Jerry Jones asked for the death penalty in his opening statement and made it clear the motive was money; he wanted his inheritance now, not later. Mark Morris was deep in debt over a failed business venture. Initially, his parents were supporting him out of interest for their two grandchildren, but became outraged upon learning their son was wasting it on video poker and other self-indulgences. After many heated discussions, they realized Mark had no ambition to dig his way out the problems he created.
Lee was so disgusted with his son, he stopped supporting him, and told Mark he would be disinherited when their new will went into effect January 1, 1996.
Fearing for his future if he was cut out of the family will, Mark Morris decided to kill his parents before the day before the new one could go into effect. In an ironic twist, the January 3rd article, 'More than 24 new state laws now in effect' placed above the AP story on the Morris case had the answer.
In 1995, his parents were legally obligated to divide their estate equally among their two children. That mandated obligation was nailed in place by a 187-year-old state legal doctrine called 'forced heirship.' Lee and Louise Morris had no choice but to allow their prodigal son to inherit an equal share of their estate.
But that law came crashing down in October of that year (1995) when state residents overwhelmingly voted to repeal 'forced heirship.' Its relevance would cease to exist on December 31, 1995. After that date, parents could shape their estate trusts and wills however they wanted. And Mark's parents didn't want him to receive a dime. He didn't deserve it.
Before New Year's Eve, his parent met with their attorney, a new will was drafted, signed, notarized and filed at the courthouse. It would go into effect January 1, 1996, and there was nothing Mark could do about it.
It was a great plan, but not a bulletproof plan. Their son made sure his parents died on the very last day of a 187-year-old state legal doctrine.
District Attorney Jerry Jones then had to tell the jury nine-year-old Ryan was murdered simply because he was a witness. "I cared about that little boy," Jones later said.
For his closing statement that came one week later, Monday, October 25, (1999) Jones told the jury that Mark "had dreams of high living on a food-stamp salary. But he couldn't buy a corvette and feel the leather on his back. He couldn't buy a fancy home on Frenchman's Bend." That was where all the rich people lived in Bastrop.
Between the opening and closing arguments, those thirty-six self-incriminating statements Mark made to friends were presented as evidence, with many of them called to the witness stand to recount to the jury what Mark had told them.
However, the best of all of them, the golden ticket for a conviction, was not a person, it was a routine courtroom audio recording made during a December 4, 1996, pretrial hearing where Mark is overheard talking to his defense attorney, admitting to the murders. "I want to go on and confess. I did it."
He later fired that court-appointed attorney, hired and fired several more, and, apparently, lost his attorney/client privilege from the 1994 hearing. The courtroom audio recording was ruled admissible.
His trial attorney argued to the jury that at the time, Mark was being sarcastic. Cynical. He was that way, after all. Nobody should take him seriously.
But they did take him seriously. One week after it began, the trial ended on Monday, October 25, 1999. The jury deliberated for fours and at 9:45 that night, Mark Morris was found guilty of three counts of first-degree murder.
In death penalty cases, a punishment trial occurs after the criminal trial. The punishment phase for Mark Morris began on Wednesday and ended on Thursday.
When the verdict was read aloud, Mark Morris was the luckiest man in the world that day. Faced with the choice of life in prison with no chance of parole, or death in the state's electric chair, the jury could not come to the unanimous decision necessary to recommend a sentence of death. Although most of Louisiana wanted it to happen, one or more of the jurors were staunch, anti-death penalty supporters and they didn't budge.
+ + +
As of May 2021, Mark Morris is sixty-five-years-old and resides at Louisiana State Prison Angola, where he lives out his days as inmate number 00419088.
If no family members claim his body when he dies, Mark Morris will be buried in the prison cemetery known as Point Lookout #2.
He will receive an impressive funeral for an inmate convicted of three counts of murder. His body will be placed inside of a prisoner made wood coffin adorned with prisoner made shrouds. And then, his body will be carried to his grave inside of,
"A black, horse-drawn hearse modeled after a 1800s vintage funeral coach. It is pulled by two large white Percheron horses and driven by an inmate dressed in a black tailcoat and a black top hat. Six pallbearers follow the coach on the road to the cemetery and assist with the burial. Inmate ministers conduct the service."
‒ historichouston1836.com
All the dignity of his death will end there. His grave will be filled with dirt, and his unmarked tombstone—a small, white cross made of concrete—will be put in place.
Nobody will know he was even there.
Final Note: Lee and Louise's daughter, Linda Morris Stewart, passed away in 2019. She was sixty-five-years-old. She is buried in Bastrop's Christ Church Cemetery where her nephew, parents, and grand-parents were laid to rest.
Story Author: Jason Lucky Morrow
//- – – – – ### – – – – -//
.
True Crime Book: Famous Crimes the World Forgot Vol II, 384 pages, Kindle just $3.99, More Amazing True Crime Stories You Never Knew About! = GOLD MEDAL WINNER, True Crime Category, 2018 Independent Publisher Awards.
---
Check Out These Popular Stories on Historical Crime Detective
Posted: Jason Lucky Morrow - Writer/Founder/Editor, May 26th, 2021 under Feature Stories.
Tags: Filicide, Greed, Inheritance, Louisiana, Murder, Patricide