Student Film Maker Seeking Funds for Project based on HCD Blog Post of a Female-Female Marriage in 1913.
Home
|
Recent News
| Student Film Maker Seeking Funds for Project based on HCD Blog Post of a Female-Female Marriage in 1913.
UPDATE: This project has been completed and you can view a trailer for this short film here: Jack and Anna Trailer
When researching and writing a story for this blog, I never know if the case is going to resonate with someone on a deeper level. It often does with family members–who read about their relatives as a victim or perpetrator–but when a story connects with someone unrelated to the victims, special things can happen.

In September 2013, two months after I started this blog, I accidentally stumbled upon an interesting case in Meeker, Colorado, where a handsome bartender, and later farmhand, married one of the prettiest girls in town, but "he" was later exposed as a woman. In the blog post, Handsome Jack Hill was a Woman, 1913, I posted five newspaper articles published in 1913 that report on what was then an unusual case of a young woman dressing up like a man in order to find more lucrative employment so that she could save money to go to college.
While living and working in Meeker, Colorado, Jack Hill was given the sobriquet of "Handsome Jack" Hill by all the single women (and some who weren't) within one week of his arrival. These women were so persistent in their "please pursue me" hints and suggestions, that it became a nuisance, and Jack Hill, aka Helen Halstead, who was really Helen Hilsher, came up with the brilliant plan of marrying German immigrant, Anna Slifka. As husband and wife, this would eliminate unwanted attention of all the available women in town, and put a stop to the town gossip that single Anna was spending too much time over at single Jack's humble accommodations, which she was.
That's the reason Handsome Jack gave–at first. Later, his/her story changes, the truth gets hazy, and Jack's enjoyment with being the center of female attention, and the efforts he took to be a good husband for Anna (who knew he was a she), write a different story regarding the true nature of their relationship. By the end of my blog post, and a great story written in 2017, we realize that these two women, brave and contrarian, created a world for themselves in which their union was the first same-sex marriage in Colorado history.
Fast forward from 1913, and 2013 to August 2017 when a graduate student in cinema directing at Columbia College in Chicago discovered the HCD blog post describing this unique story of two women who lived as husband and wife in small town Colorado 100+ years ago. For her, this story connected with her own struggles in her native Russia. After reading about this unique case of a historically rare female-female marital union, Ksenia Ivanova knew she had to focus her required thesis film, a short narrative of ten to fifteen minutes, on the story of Colorado's first same-sex marriage between "Handsome Jack" Hill, aka Helen Hilsher, and Anna Slifka.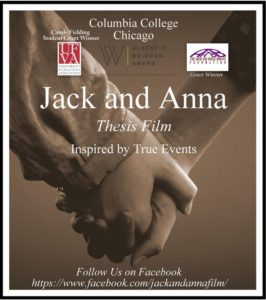 In 2013, I accidentally discovered this story and hastily assembled five newspaper stories to create a blog post which I believe was the first retelling of this story in a century. Maybe.
In 2017, a writer named Amy Hughes found greater resources not available to me in 2013 and wrote a truly excellent piece about Jack and Anna you can read here. The Hughes article goes into greater detail and lays the foundation for why this remarkable story, buried for more than 100 years, should be awakened and cast toward the screen to be seen by a mainstream audience, an alternative one, and for all who concern themselves with LGBTQ issues.
"The story of Jack and Anna is unique because there are not many stories that show how members of the LGBTQ community have struggled," Ksenia recently wrote on her project funding page. "Since this story happened in 1913, it makes their choice to fight for their happiness even more powerful, because at that time it wasn't even possible."
But great story telling on film doesn't come cheap and the cost of Ksenia's one-of-a-kind project is about $15,000. A pie chart on her funding page breaks it all down, but the director with a vision is determined to make it happen, and has already received some impressive grant money from some impressive organizations.
"We are winners of several grants such as the Albert P. Weisman Award, Carole Fielding Student Grant, and The Arch and Bruce Brown Foundation Grant," the young filmmaker wrote. "We have raised $5,000 so far but this is not enough to bring 'Jack and Anna' to life."
With $10,000 to go, Ksenia and her troop of eight talented associates are asking for you to make a donation. It's not really a donation, though, because they will give you back what they can–cool stuff that only comes with being involved in the industry.
If describing yourself as a film producer sounds as good to you as it does in real life, you can donate $1,000 or $500 to this project and you got it, executive level or associate producer credits.
If you're not that ambitious, then working downward from $100 to $5 will get you autographed scripts, copies of the film, film credits, film posters, and social media shout outs.
The stories on HCD are free, and as most of you know, I give my books away for free when I can. With all that free content flying around, I don't have a hard time encouraging everyone to donate to a project seeking to produce content on a higher level, for a greater purpose.
Myself, I'm donating. I think it's an awesome venture with great potential to grow naturally into a major motion picture. Or, even a minor motion picture would be outstanding, but the story does have growth potential, IMO.
Check out the IndieGoGo fundraising page for this unique project titled "Jack and Anna where you can learn more film "Jack and Anna" and are given the opportunity to donate $5 (which would be great if everyone did) to $1,000.
True Crime Book: Famous Crimes the World Forgot Vol II, 384 pages, Kindle just $3.99, More Amazing True Crime Stories You Never Knew About! = GOLD MEDAL WINNER, True Crime Category, 2018 Independent Publisher Awards.
---
Check Out These Popular Stories on Historical Crime Detective
Posted: Jason Lucky Morrow - Writer/Founder/Editor, May 16th, 2018 under Recent News.