Volume II of VTCS Available Saturday. Free Digital Copies for Reviews
Home
|
New Books
| Volume II of VTCS Available Saturday. Free Digital Copies for Reviews
Volume II of the HistoricalCrimeDetective.com published series, Vintage True Crime Stories: An Illustrated Anthology of Forgotten Cases of Murder & Mayhem, will be released this Saturday, March 9. Just like last time, a free Kindle/ePub copy will be given to anyone and everyone who is willing to write their unbiased review. If you do read the book and write a review, and you contact me, I will send you a free CD with your choice of 1.) 175 Classic True Crime Books or, 2.) 35 Vintage True Crime Magazines.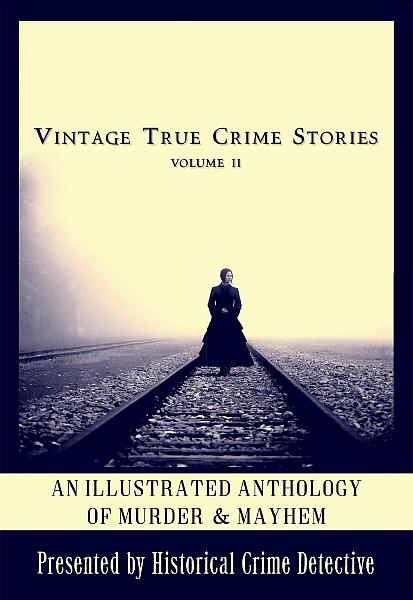 About the stories in this book.
The ten stories true crime stories selected for this volume are so forgotten, they are new again, and possibly, unlike any true crime story you have read before.
Let me test my presumption with a preview of four these 'old' stories.
If I told you there was once a west coast sex cult with dozens of young girls, single ladies, and married women, who all fornicated with one well-endowed "prophet," and he occasionally found it necessary to carry-out bondage S&M sessions here and there, you may not be surprised at all. But what if that sex cult began in 1903 and ended in 1906 with a couple of murders and suicides, does that sound like anything you have read about before?
Or, how about a cheater who murders his inconvenient wife, disassembles her over a fifteen hour period, then puts her bones in the same stove he cooks breakfast for his sons before sending them off to school? If that doesn't surprise you, perhaps the ending will–but you'll have to find out for yourself.
In 'The Dandy and the Squire,' a smooth-talking peacock from Kentucky visits his northern 'cousins,' and charms three of the women into his bed. He's a big time operator who talks fancy, dresses fancy, and tells great stories of his days as an adventurer, riverboat gambler, and sharp-minded deal maker. He's so smooth, he's able to murder the patriarch's son, make him look like the bad guy, and marry the boy's tender-hearted sister before the Yankees get wise to his lies. Good thing, too, because he had also talked the father into giving him the family farm.
Chapter Five is the stranger-than-fiction story of 'Shoebox Annie.' During the early 20th Century, this trollish-looking woman introduced her freakish-looking son to a life of crime. Their decade's long spree of lyin', cheatin', and stealin' led them to become America's first mother and son team of serial killers. They were so good at disposing of bodies, none of their four victims have ever been found.
If 'old' stories sound boring to readers of contemporary true crime, I hope this book will change minds, and fully reveal just how wicked and decadent our ancestors were.
And deadly.
Volume II in the Vintage True Crime Stories series is a wrecking ball that smashes to pieces that phrase, "The Good Old Days."
Maybe you will believe me when you get to the last page.
———-###———-
True Crime Book: Famous Crimes the World Forgot Vol II, 384 pages, Kindle just $3.99, More Amazing True Crime Stories You Never Knew About! = GOLD MEDAL WINNER, True Crime Category, 2018 Independent Publisher Awards.
---
Check Out These Popular Stories on Historical Crime Detective
Posted: Jason Lucky Morrow - Writer/Founder/Editor, March 6th, 2019 under New Books.