The Case of the Make Believe Orphan, 1953
Home
|
Feature Stories
| The Case of the Make Believe Orphan, 1953
Story Credit: "The Case of the Make-Believe Orphan," by Gerry Smart, Front Page Detective, November 1955.
Texas, March 1953
The boy's words over the phone were simple, but it was the way he spoke that brought tears to the woman's eyes. She kept thinking of her own son, Paul, now serving his time in the Air Force. Maybe Paul had known the despair she heard now in the stranger's boyish voice.
"I don't want to bother you, Mrs. Winterbauer. I wasn't going to call. I put it off as long as I could. But Paul said if I was ever in Dallas. . . ."
She interrupted him, blinking her eyes and talking fast to push out of her mind any thought of her son ever sounding this lonely.
"You're not bothering me one bit, young man. Of course I remember you. I'm mighty glad you called, and I know Paul would want you to come out and see his home."
She didn't remember him, but that didn't matter. There were so many airmen in her son's barracks when she last visited him at Lackland Base near San Antonio, that the names and introductions had been scrambled and lost in her joy at seeing Paul.
"I'd sure like to come out," the boy said, shyly. "You see, I got transferred to Perrin Base at Sherman, Texas and then I got this leave. I didn't know anybody, and didn't have anywhere to go."
"Is your home far away?" Mahala Winterbauer asked.
"My folks are dead," he said.
That clinched it. Mrs. Winterbauer felt the tears filling her eyes again as she told him, "What you need is to meet some young folks, friends of Paul's, and make a real vacation out of your leave. You check out of that hotel right now, and I'll pick you up in my car. It's a two tone Chevrolet. Now stand by the hotel door and wait for me. I'll be there in a few minutes."
She was like a little girl who finds a lost kitten at her door. She knew a lot of it was her own loneliness. Paul's enlistment and recent transfer to Korea had made her house empty. It's hard to quit mothering somebody when you've done it so long. The death of her husband, retired police officer Edward Winterbauer, had added to her longing for someone to talk to and wait on, so that this call from her son's friend was a little like having Paul home again.
She drove toward the Whitmore Hotel, making a mental list of Paul's young friends to introduce to this young airman. She'd give him her son's room, and maybe the young man could wear some of Paul's civilian clothes. She decided to give him a real leave, the kind his own parents would give him, if they were alive.
That was March 3, 1953. . . .
ELEVEN days later, her brother-in-law, C. H. Winterbauer, became worried about her. The hotel where Mrs. Winterbauer worked as relief switchboard operator called him because they hadn't been able to locate her for a full week. Mr. Winterbauer dialed his sister-in-law's number, but got no answer. He hurried to her house and found the doors locked. That's when he called police. It was a Saturday afternoon, March 14, 1953.
The officers met him at the front door, and they tried a series of passkeys before finding one that would fit. They saw her as soon as they pushed the door open. She was sprawled, fully clothed, like a huge swollen balloon, on the living room floor. The blood on her face had been caked for days. The smell of death filled the room. Her glasses, one lens streaked with black, dried blood, lay three feet away from her. A denture, knocked from her mouth, lay across the room. What had once been a puddle of blood was now a hard stain congealed in the carpet. She had been beaten to death.
Her brother-in-law froze in horror, and an officer led him back onto the porch and helped him sit down. Winterbauer mumbled, "Paul, I've got to get word to Paul. How do you tell a boy in Korea that he's an orphan?"
Homicide officers moved into the house with fingerprinting equipment and made an inch-by-inch search for clues to the killer of the police officer's widow. The homicide men knew she'd been dead at least a week. The killer had a big head start.
They visited neighbors. A woman next door to Mrs. Winterbauer remembered that she hadn't seen the dead woman's car since Sunday, six days before.
"That boy drove it out of the doorway about 4:30 Sunday."
"What boy?"
"That airman who was staying at her house. Just a kid, really. Skinny and fuzzy cheeked. She told me about him. He was a friend of her son's, but I can't remember his name. She couldn't seem to do enough for him. She even invited her son's friends over to the house to meet him. I saw him back the car out Sunday, and I haven't noticed anyone over there since. I figured she must have driven him back to his air base later, because the car has been gone and the house locked up."
They found receipts in the house from the service station where Mrs. Winterbauer always traded. They called the station to find out if her car had been seen there.
"No," the attendant said. "Mrs. Winterbauer hasn't been in to the station for a week."
"Would you have noticed her car if it was driven by someone else?"
"Like I'd notice if the sun didn't come up one morning. That woman was bugs on one thing. She didn't want anybody behind the wheel of her car, except herself. When she had to leave her car for a wash or grease job, she'd walk where she wanted to go before she'd let any of us drive her there in her car or pick her up in it. I never saw anybody but her driving that Chevy, and I wouldn't have believed it if I'd seen it."
Other officers began calling the young friends of Paul Winterbauer. One girl told of being invited to the Winterbauer house about ten days before, to meet a service friend of Paul.
"He seemed awfully young," she said. "Skinny in the face, and short. Kind of shy. His name was Carmichael, and he had a funny first name, but I can't remember what it was Basil, or something."
"Do you remember where he was stationed?"
"Sure," she said. "He talked about that. When Paul was sent to Korea, Carmichael transferred to Perrin Base at Sherman. He didn't like it there because he didn't have his old friends with him. But he didn't seem to me like the kind that would be a big buddy of Paul's. Paul's always doing things and talking a lot. This kid was so bashful and young, I couldn't imagine them as buddies. He may have known Paul, but I bet they weren't the bosom pals he said they were."
Dallas police asked officers at Perrin Base to check their records on the name Carmichael, recently transferred there from Lackland. Perrin Base sent them a file on Brasil Dail Carmichael. His records also spelled his name Brasel Dail Carmichael, Brazil Doyle Carmichael and Brasel Doil Carmichael. His scrawled signatures made the spelling difficult to make out. He was 18, five-feet eight-inches tall, weighing 136 pounds, black hair and brown eyes. He had gone AWOL from the base on March 1, and was still missing. His home was listed as Steinhatchee, Fla., a small fishing village near the Everglades. His parents lived there and in Tampa.
Editors Note 02/17/2016: Brazil Dail Carmichael died in 2013.
Had Mrs. Winterbauer given her sympathy to a man who was not the orphan he claimed to be, only to make an orphan of her own son?
Her neighbors and her son's friends looked at the photograph from Perrin—a, skinny-faced, dark young man with solemn eyes looking out from under an airman's cap that appeared too big for him. They were positive he was the boy who'd stayed in Mrs. Winterbauer's home. Fingerprint experts clinched the identification when they reported prints in the house matched Carmichael's.
On March 20, six days after the body was found, Dallas officials filed murder charges against Carmichael. The FBI wanted him for the AWOL charge. But he had vanished, taking with him Mrs. Winterbauer's Chevy.
Police could find no certain motive for the murder. Mrs. Winterbauer had been generous with her house guest, treating him as though he were her own son. One of Paul's friends remembered that the young stranger had asked the woman to let him use the car for a date, and Mrs. Winterbauer had refused. But that hardly seemed a motive for murder.
Police could find no evidence of robbery. Mrs. Winterbauer's purse was in the living room when her body was found. It contained some small change, and appeared untouched. They checked with the hotel where she worked.
She'd been paid a $30 check on Friday—two days before her death. A hotel official went to the bank and thumbed through the canceled checks of employees who had cashed their checks for March 6. He slipped Mrs. Winterbauer's from the stack and handed it to officers.
The check was cashed at a service station in the neighboring town of Terrell, Tex. Mrs. Winterbauer's endorsement was on the back, and under it, the scrawled signature of Brasil Dail Carmichael. It was cashed the day of the woman's death.
Police hurried to the service station and talked to the attendant. He remembered cashing the check. There were two men in the car, and the driver was an airman. It was a two-tone green Chevy. The airman bought $2 worth of gas and then pulled out that check.
The attendant identified the picture of Carmichael as the airman who had cashed the check.
With a detailed description of the car in hands of police all over the country, it seemed impossible for it to remain missing, especially since the car license tags were a year old, and due to expire on April 1. But neither the man nor the car was found.
Paul Winterbauer came home from Korea on special leave to attend his mother's funeral. He told officers that he knew very little about Carmichael, and had no idea where the suspect would hide out.
He remembered Carmichael as a thin, shy boy who had bunked next to him at Lackland Base. They knew each other casually, and were certainly not buddies.
Florida police watched for Carmichael to show up at his parents'. They screened the elder Carmichaels' mail and watched their home. But the suspect failed to communicate with them.
Three months after the murder, on June 7, Detroit police embarrassedly contacted Dallas.
A Detroit officer had seen a two-tone green Chevrolet parked and empty on a city street. The car had an expired Texas tag on the front and a Michigan plate on the rear. The officer noticed the car in the same place for two months before he reported it to the Auto Recovery Bureau. Detroit police could give no excuse for this delay.
The Michigan plate was stolen and the Texas plate bore the number of Mrs. Mahala Winterbauer's missing car.
On the day the Auto Bureau checked the license number, the car mysteriously disappeared from the space where it had been for two months.
Three days later, it was again found in Detroit. There was no trace of the missing driver and murder suspect, and the lead was too old to be of any use. Police said they were positive it was not Carmichael who moved the car the second time. He'd probably left Detroit two months earlier when he abandoned the car, and he might be anywhere by this time.
The months and years passed without further word of Carmichael.
IN JUNE, 1955, three members of the McPherson family of Dickenson, Tex., were murdered in their beds. The case paralleled the Winterbauer case so closely that many officers were certain Brasil Carmichael had added these murders to the first one.
Mrs. McPherson was seen with an airman whom she introduced as a service friend of her eldest son. She invited the stranger to her home. That night while Mrs. McPherson, her elderly mother, and her youngest son were asleep, the airman got up and shot all three of them to death. Then he robbed Mrs. McPherson's purse.
He escaped in Mrs. McPherson's two-tone Ford, and for days no trace could be found of him or the car.
The dusty Carmichael folders came out of police files, and once again the hunt for the missing suspect was in full swing. But he had vanished, and there was not the slightest lead.
Police captured the man suspected of the McPherson murders, a few weeks later. It was not Carmichael. The two-year-old folders went back into the files.
In Washington, D.C., fingerprint experts check their voluminous files on hundreds of fingerprints every day. If you get picked up by police anywhere in the country, and if they book you, no matter how small the charge, they'll take your fingerprints. Then they'll ask the FBI to check the prints and make sure you're who say you are.
In two years, of all the prints the FBI was asked to trace, Carmichael's prints never turned up.
In mid-July, 1955 a fingerprint expert was making a routine check on identification of a prisoner serving a 15-day sentence in Mayville, N.Y., for peddling magazines without a license. The man gave his name as Glenn David Whitmore.
His fingerprints led the experts to the file on Brasil Dail Carmichael.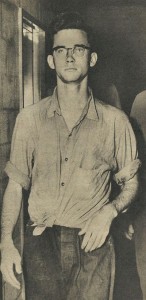 Brasel Dail Carmichael
It had been a routine check, unhurried. If the Mayville authorities had delayed six more days in sending in the prints, Carmichael would have served his 15 days and been released before the report went through.
FBI agents rushed to Mayville to take custody. Dallas police were notified.
Homicide Captain Will Fritz read the alias of his suspect. "Booked as Glenn David Whitmore." The name Whitmore was familiar. He glanced through his file on the crime. The Whitmore was the hotel where Carmichael was staying when he first telephoned his victim.
On Monday, July 25, Carmichael was arraigned in Jamestown, N.Y., on the federal charges of transporting a stolen car. He was held under $10,000 bond. Authorities started the paper work to take him back to Texas.
"Suppose I don't want to go back to Dallas?" he asked United States Commissioner E. R. Bootey.
"You're going back anyway," Bootey replied. On August 1, he was returned to Dallas to face murder charges.
At first, he claimed innocence. But later he broke down and told officers about the murder. "The last day I was at the house," he began, remembering his stay with Mrs. Winterbauer, "she was getting ready to visit relatives and I asked her to let me drive her there so I could use the car. She refused, and said I'd been drinking. I grabbed a Coke bottle and hit her on the head. The next thing I knew she was lying on the floor and there was blood all around her head on the floor."
Dallas authorities intend to ask the death penalty, but Carmichael said, "I'm going to do my best to beat the chair, and maybe someday I'll get out of prison."
Once he'd made his statement he seemed to relax. "I've moved around the country a lot, mostly selling magazines, and I'm very tired of ducking and dodging. I've slept much better since my arrest than I have in two years."
Note: On October 6, 1955 Brasel Dail Carmichael accepted a plea deal of 99 years in prison in exchange for escaping the electric chair.
—###—
True Crime Book: Famous Crimes the World Forgot Vol II, 384 pages, Kindle just $3.99, More Amazing True Crime Stories You Never Knew About! = GOLD MEDAL WINNER, True Crime Category, 2018 Independent Publisher Awards.
---
Check Out These Popular Stories on Historical Crime Detective
Posted: Jason Lucky Morrow - Writer/Founder/Editor, September 12th, 2014 under Feature Stories.
Tags: 1950s, Murder, Texas