Tommy Gun Winter by Nathan Gorenstein
Home
|
New Books
| Tommy Gun Winter by Nathan Gorenstein
A tale of love, murder, insanity and the law. Plus two zealous newspaper reporters and a couple of clever detectives in 1930s Boston.
Tommy Gun Winter" is the improbable but true story of four Bostonians who once shared the front pages with John Dillinger, Pretty Boy Floyd and Bonnie and Clyde. One was a beautiful minister's daughter, another was a graduate of MIT, and their leader was Murt Millen – smart, persuasive and unbalanced.
The story is told by a veteran journalist who tracks down a family secret.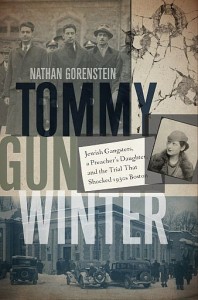 Millen was the son of a successful immigrant Jewish contractor. He dreamed of becoming a race car driver, but instead chose crime. He ensnared his brother, Irv, and then aeronautical engineer and ROTC officer Abe Faber. The brilliant Faber found in Millen the only person he ever loved.
Norma Brighton was the 18-year-old who fled her father's home two weeks after meeting Murt in a beachfront dance hall.
Murt and Norma married, and three weeks later the first person died.  Then another. And then came a fatal bank robbery.
In an era before surveillance cameras, cell phones or computers the gang escaped clean away after Murt cut down two police officers–Francis Haddock and Forbes McLeod. There was little evidence at the scene, eyewitnesses were unreliable, the license plate number was fake. Police were stymied. But working the crime were a couple of clever detectives and two zealous newspaper reporters. What followed was a remarkable investigation and record-setting trial where testimony from friends, family, physicians and seventeen psychiatrists unveiled an emotional triangle gone very bad.
This story of an interfaith marriage, sex, insanity and bloodshed made the three men and their "red-headed gun moll" infamous. Using newly released state police records, trial transcripts and meticulous research, Gorenstein's account explores the Millen, Faber, and Brighton families and introduces us to cops, psychiatrists, newspaper men and women, and ordinary citizens caught up in the extraordinary Tommy Gun Winter of 1934.
—###—
True Crime Book: Famous Crimes the World Forgot Vol II, 384 pages, Kindle just $3.99, More Amazing True Crime Stories You Never Knew About!
---
Check Out These Popular Stories on Historical Crime Detective
Posted: Jason Lucky Morrow - Writer/Founder/Editor, May 9th, 2015 under New Books.