New Book: Mrs. Hartley and the Senator: A True Story of Rape and Murder
Home
|
New Books
| New Book: Mrs. Hartley and the Senator: A True Story of Rape and Murder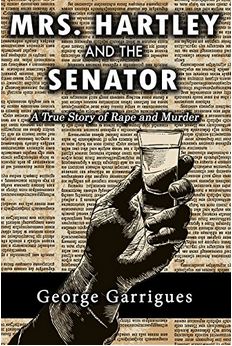 Book Synopsis:
In a unique newspaper-article format, this is the story of how two women were drugged and then raped by two different Senators from Nevada, and how one of the women shot to death her rapist; it brings to life the last decade of the Nineteenth Century in California and in Nevada, after the rise of the railroad but before the advent of the motor car
It is the story of Alice Maud Hartley, English born with accent to match, good-looking, artistic, a mother, married three times (though later she said it was only two), an adventurous soul who nevertheless was more at home among the salons of the Palace Hotel in San Francisco than she was amid the tree sap and rough frontier of Meadow Lake. Religious, mystical, determined. Quiet.
She killed a man and was sent to prison, where she had his baby.
The other woman was Carrie Brady Glasscock. She said: "He seated me on the sofa and inquired about my health. As I was still afflicted with malaria, he said he had a sure remedy which he took himself. He made up a dose in a glass and gave it to me to drink. It put me to sleep."
Free Download Today and Tomorrow, February 21 & 22, 2017, on Amazon Kindle.
—###—
True Crime Book: Famous Crimes the World Forgot Vol II, 384 pages, Kindle just $3.99, More Amazing True Crime Stories You Never Knew About!
---
Posted: Jason Lucky Morrow - Writer/Founder/Editor, February 21st, 2017 under New Books.