Historic Crimes & Justice in Portsmouth, New Hampshire
Home
|
New Books
| Historic Crimes & Justice in Portsmouth, New Hampshire
Book Synopsis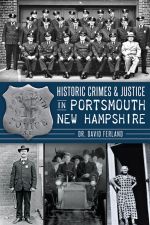 The first courts handled crimes like lying, idleness and card playing with punishments that ranged from fines to public whipping to death by hanging. Constables kept order until Portsmouth's first police officer took up the shield in 1800. But no force could keep all crime at bay. The court sentenced the beautiful, educated Ruth Blay to hanging on shaky evidence that she might have killed her baby. Business magnate Frank Jones played corrupt politics, succumbed to extramarital temptations and helped make Water Street the red-lighted rum hole destination of the eastern seaboard. Mischievous sailors came into port looking to spend their money, finding ample opportunity in Portsmouth's bowery bordellos. Retired Portsmouth police officer David "Lou" Ferland traces the history of Portsmouth crime and justice from the first courts to today's award-winning police department.
True Crime Book: Famous Crimes the World Forgot Vol II, 384 pages, Kindle just $2.99, More Amazing True Crime Stories You Never Knew About!
---
Posted: Jason Lucky Morrow - Writer/Founder/Editor, June 15th, 2014 under New Books.