New Book Uncovers Early 1900s Serial Killer
Home
|
New Books
| New Book Uncovers Early 1900s Serial Killer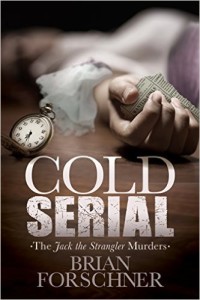 Cold Serial: The Jack the Strangler Murders by Brian Forschner, investigates a century-old series of murders and the deranged offender who committed them.
In the early 1900's, a string of heinous crimes took place in the town of Dayton, Ohio. Five young girls were raped and brutally killed. In an era when women lacked rights and esteem in society, the victims were blamed and overlooked by police. Sadly, the crimes went unsolved, and the perpetrator was never brought to justice. In Cold Serial: The Jack The Strangler Murders, author and researcher Brian Forschner reopens a century-old case and goes on a quest for the truth.
Using criminological research and forensic evidence, these five murders are strung together and proven to be committed by one of the very first serial killers in the United States. Forschner attempts to solve the case by utilizing modern-day analysis, and simultaneously demonstrates the politics involved in the justice system both then and now. He proposes a suspect, embraces the challenge of placing him at each crime scene, and in turn gives voice to the victims that were tragically silenced in the past.
Cold Serial is a narrative non-fiction that reads with as much intrigue and suspense as a mystery novel. Riveting and fast-paced, this true crime book will appeal to thrill lovers and history buffs alike. With a mission to solve a long-since cold case and bring justice to the victims, the twists and turns and cold hard facts keeps readers on the edge of their seats dying to know what really happened way back then. By telling these women's stories, Cold Serial: The Jack The Strangler Murders brings justice to victims of the past and lays the groundwork for understanding social issues facing women today.
About the Author: Brian E. Forschner, PhD, has a unique voice that has been shaped by many different experiences in his life, including seminary training, the operation of halfway houses, and university teaching. More recently, Brian has been involved in the building and operation of affordable housing for families and elderly Americans, retirement and nursing homes, home health, and post-acute services for a major health system. During his career his role has spanned from one of minister, teacher, writer, counselor, and consultant, to CEO. His passion is social justice. Today, Brian lives in Cincinnati, OH.
—###—
True Crime Book: Famous Crimes the World Forgot Vol II, 384 pages, Kindle just $3.99, More Amazing True Crime Stories You Never Knew About!
---
Check Out These Popular Stories on Historical Crime Detective
Posted: Jason Lucky Morrow - Writer/Founder/Editor, September 19th, 2015 under New Books.