Book Review: The Murder of Maggie Hume
Home
|
New Books
| Book Review: The Murder of Maggie Hume
.
Book Review: The Murder of Maggie Hume: Cold Case in Battle Creek, by Blaine Pardoe & Victoria Hester, History Press, August, 2014.
While researching and writing his last true crime book, Murder in Battle Creek: The Mysterious Death of Daisy Zick, which was great reading, veteran author Blaine Pardoe was repeatedly confronted with another famous Battle Creek, Michigan cold case which has become the subject of his latest true crime book: The Murder of Maggie Hume: Cold Case in Battle Creek. Like an investigator with a nagging compulsion to go after a specific suspect, or to close an old case, Pardoe, assisted by his daughter Victoria Hester, dug into this 1982 murder mystery and came up with an accurate, thorough and unbiased account of this cold case which still has a chance of being solved.
The Maggie Hume case has the classic elements a true crime book needs to be successful: A young, attractive 'girl next door' victim who is special to the reader only because of her ordinariness; and a chief suspect that you really, really, really just love to hate.
Book Synopsis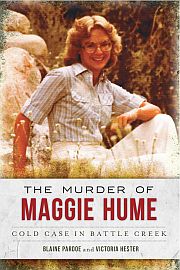 "On August 16, 1982, an unidentified attacker brutalized and strangled Maggie Hume at her apartment in Battle Creek, Michigan. The daughter of a beloved local football coach, her seemingly senseless murder sparked intense scrutiny that lingers today. Award-winning author Blaine Pardoe and his daughter, Victoria Hester, crack open three decades of material on this mysterious tragedy, exposing dark secrets and political in-fighting that tore at the Battle Creek legal system for years. Compiled from documents, videos and interviews, this book presents the facts and clues of the case to the public for the first time."
Pardoe is the master of atmosphere and setting the scene. Just like with his Daisy Zick book, Pardoe and his daughter Victoria, put you inside a DeLorean time machine with a flux capacitor, set the time dial to August, 1982, the location dial to Battle Creek, Michigan, and land in the middle of prose where the reader absorbs that era. Okay, Back to the Future came out AFTER the crime, but it's a DeLorean time machine, it doesn't matter.
Once you're taken back to that time and place, you want to stay there and look around for a while. Peer over the investigators shoulder as they examine the crime scene. Sit in on any one of the numerous interrogations. Listen to family and friends as they chat about the peculiar antics and quotes of the chief suspect.
Pardoe and Hester present this story in a clear, concise manner. They parse out the facts in an unbiased tone and condense the entire case down to its core essentials. That's not easy to do when the case file could very well be 10x to 100x the length of the book. In the beginning, they throw a lot of names at you, but there is no way around this, and the reader will have to make an effort to keep up with who is who, and who said what about the chief suspect. As I said before, the book has the classic elements needed for a good crime book, but only in the first half. In that first half, the story reminded me of the type of true crime stories Ann Rule would choose and write about. If you stop and think about why you love the victim and hate the chief suspect, it's because Pardoe and Hester have guided you to feel that way by placing the reader in the middle of the storm that rolls in after Maggie's death. That takes some skill.
But in the second-half of the book, the story takes a sharp left turn to reveal woefully misguided investigators who darn near ruin the case. Pope Francis very recently (Sept. 29, 2014) gave a sermon in which he said, and I'm paraphrasing, Satan seduces us by disguising evil as good. "He presents things as if they were good, but his intention is destruction," – were his exact, translated words.
You'll understand what I mean when you get to the second part of the book where two ambitious investigators falsely portray themselves as the angels of justice against a quasi-corrupt or incompetent system. As you read through that section, you fear that the case, which can still be brought to justice, is permanently derailed. However, that asinine era of the story ended years ago and by the end of the book, the reader's hope returns, but just barely.
The language of investigators, prosecutors, families, and the media often employ the words cold case, and unsolved case. I would humbly like to submit for consideration into their glossary a new term which, at times, including this one, might be a smidgeon more accurate. The murder of Maggie Hume is not an unsolved case, it's an unresolved case. Go back to the 'Cluster B personality' type of a chief suspect, and reread page 57 after you've read the entire story. The fact that I have that opinion should tell you that 'I got into this book.' If you read The Murder of Maggie Hume I am betting you will too.
About the Authors
Blain Pardoe is an award-winning, best-selling author of numerous books ranging from science fiction to true crime, military history and business management. Mr. Pardoe was raised outside Battle Creek, Michigan, and received his bachelor's and master's degrees from Central Michigan University. He has been a featured speaker at the U.S. National Archives, the U.S. Naval Academy and the Smithsonian. He was awarded the State History Award in 2011 for his book on Battle Creek aviator Frederick Zinn (Lost Eagles). In 2013, he was the Michigan Aviation Hall of Fame recipient of the Harriet Quimby Award. He is the author of several true crime books, including The History Press bestseller Murder in Battle Creek: The Mysterious Death of Daisy Zick. He currently lives in Virginia outside Washington, D.C. He can be followed on Facebook or via his website (www.blainepardoe.com).
Victoria R. Hester is a graduate of Lord Fairfax Community College and resides in Culpeper, Virginia. She won two prestigious writing awards for her nonfiction work while in college. She is a full-time nurse and writes in her spare time. She is married and has a son. With her family being from the Battle Creek area, she has been visiting the community her entire life. This book is her first published work that she co-authored with her father.
—###—
True Crime Book: Famous Crimes the World Forgot Vol II, 384 pages, Kindle just $3.99, More Amazing True Crime Stories You Never Knew About!
---
Check Out These Popular Stories on Historical Crime Detective
Posted: Jason Lucky Morrow - Writer/Founder/Editor, October 7th, 2014 under New Books.