Best New True Crime Website of 2016
Home
|
Uncategorized
| Best New True Crime Website of 2016
The Rabbit Hole
The term "rabbit hole" has several definitions, but #3 in the Urban Dictionary describes the internet's best new true crime website.
To go down a never ending tunnel with many twists and turns on the internet, never truly arriving at a final destination, yet just finding more tunnels. Clicking one link, then finding another on that page, then clicking another link on that page, which gives you the idea to search for something, and the process repeats. – Urban Dictionary.
For hardcore true crime addicts, a recently released true crime website could be the entrance to an internet rabbit hole where they could truly get lost consuming the genre every waking hour for several months.
Imagine if there was one place [cue dramatic music] where 600 800+ true crime documentaries and true crime television episodes on the internet could be viewed on one platform devoted to true crime stories.
What? Did he say 600? That's just crazy talk. (Update: On 8-29-2016 the count is 800+)

Best New True Crime Website of 2016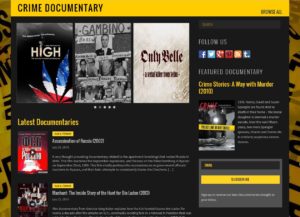 That's not crazy talk, that's how many there are on CrimeDocumentary.com, and approximately 25 to 100 more episodes and films are being added each week. With an attractive, sleek design, rigorous attention to collating, as well as adjunctive information about each video, CrimeDocumentary.com is easily, by far, the best new true crime website of 2016. And 2015. And maybe next year, too.
According to the founder, Chanel, she describes her watch-them-all in one place website as: "An attractive and easy to navigate crime / true crime documentary website which searches, identifies, describes and catalogues free crime related documentaries for people to watch all in one place, with currently over 600+ documentaries available."
See, even she said it could be done all in one place. It's like a Roku streaming channel devoted to true crime documentaries and television shows—and it's free.
Categories
The site is broken down into thirteen different categories which include:
Drugs,
Gangs,
Historical,
Kidnap & Hostage,
Miscellaneous,
Murder,
Organized Crime,
Prison,
Scam & Fraud,
Sexual,
Technological,
Theft & Robbery,
War & Terror
According the founders, two more categories, "Serial Killers" and "Forensic & Profiling," are coming soon.
To clarify, they have programs about serial killers, but for now, they're categorized under "Murder," their largest category. The murder category, as well as others, does include foreign true crime films and shows, but all come with English subtitles.
The Process
A cynic might believe that the creators just took videos from youtube and copy/pasted the share code on a web page—but it's not that simple. They dug a lot deeper into the material by adding additional, helpful information.
"We gather the videos from video sources like youtube, dailymotion, vimeo, archive.org, etc. and from TV providers like Russia Today, Al Jazeera, Vice or PBS. [When a video is inducted into our collection], we try [to include the following information:]
What is the correct full Title
Does it belong to a TV-Show – We put that in the subtitle shown below the main title.
Publish Year / Year of first airing – Put in brackets behind the Title
IMDB Link (a movie database)
Wikipedia Links to the Case and/or Film itself.
Murderpedia Links in case it is about a murder.
We look for a cover-image, if we don't find one, we create one ourselves.
Add a proper Synopsis."
True Crime Television Shows
Right now, they have complete coverage, that means every episode, of 30+ true crime television shows. Shows like Gangland (80 episodes), America's Serial Killers: Portrait in Evil (this show includes many historical serial killers), and Deadly Women. Of course, they also have incomplete seasons and series with many of your favorite true crime TV shows.
You can check out all of them here: http://crimedocumentary.com/tag/series/ . Unfortunately, the episodes visible via that link, are not alphabetized and instead, are organized by date added, which produces a random style organizational feel. Another issue here is that the televisions shows are mixed in with everything else, but in my belief, should be separated into another category – similar to how it is done on Netflix.
To be fair, I know the developers are working very hard on their website, and building new websites are time consuming. Constructing a separate category for "Television Series" would be a massive undertaking since there are, as of July 25, 2016, more than 300 TV episodes listed on the site.
True Crime Documentaries
Getting to the best part, the documentaries, CrimeDocumentary.com has an estimated 250 to 300, true-form documentaries on the site as of July 26, 2016. This includes some of the most famous films of the last twenty years, as well two of the most talked about documentaries of 2015:
Dear Zachary: A Letter to a Son About His Father (2008)
Besides the popular and well-known, you can get lost searching and watching:
3 ½ Minutes: Ten Bullets, 2015
Angel of Death: The Beverly Allit Story, 2005,
Bazaar Bizarre, 2004, and
Born to Kill: Richard Trenton Chase, 2006
Historical True Crime
As mentioned in the category list above, CrimeDocumentary.com does have a historical section, a decent one, which includes two of the oldest true crime documentaries ever made: How Fred Burke Was Captured, 1931 and You Can't Get Away with It, 1936.
Additionally, the historical category also offers, The Police Tapes, a 90 minute documentary from 1976, (released in 1977), that invented the gathering and presentation methods that would later be adapted for the long-running television show COPS, which debuted twelve years later in 1989. This ride-along-with-officers and film the type of calls they go out on every night is a time machine that takes you back to South Bronx, New York, 1976. Here is a synopsis provided by CrimeDocumentary.com which was borrowed from Wikipedia.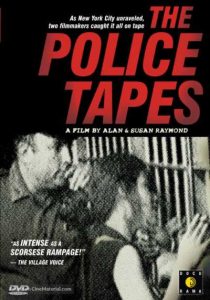 Filmmakers Alan Raymond and Susan Raymond spent three months in 1976 riding along with patrol officers in the 44th Precinct of the South Bronx, which had the highest crime rate in New York City. They produced about 40 hours of videotape that they edited into a 90-minute documentary.
The result was what New York Times TV critic John J. O'Connor called a "startlingly graphic and convincing survey of urban crime, violence, brutality and cynical despair". Cases followed include the discovery of a dead body on the street, the rescue of a mother trapped in her apartment by a mentally ill son, an attempt to negotiate with a woman armed with an improvised flail who refuses to stop threatening her neighbor, and the arrest of a 70-year-old woman accused of hitting her daughter in the face with an axe.
There is some introductory narration at the beginning describing the neighborhood and the time the documentary was filmed, but some unifying commentary is provided by an interview with Bronx Borough Commander Anthony Bouza, who ascribes the crime rate in the 44th Precinct to poverty, describes the hardening effects of urban violence on idealistic police officers, and likens himself to the commander of an occupying army, saying "We are manufacturing criminals… we are manufacturing brutality".
No Fee, All Free
Before writing this article, I went through the website myself, and grilled the founders on one important aspect: that none of the documentaries, or TV episodes, will take you to a paid service. This is not a bait-and-switch website that attempts to manipulate you into paying a subscription, or a rental fee. Everything you can watch on this website is absolutely free.
Great, but Dangerous
CrimeDocumentary.com is definitely, in my opinion, The Best New True Crime Website of 2016, but it could also be the most dangerous—dangerous because a real true crime lover could get lost for six months watching all the content that is available.
These videos may have been "out there," but I never would have found them all and certainly not organized them in the way Chanel and her colleagues have done it. And let's face it, Youtube's search functions aren't that great. I usually have to poke around for 10 to 30 minutes before I find exactly what I'm looking for. Now, if I want to watch old episodes of American Justice, I just go to CrimeDocumentary.com and type it in the search box.
Congratulations to Chanel and her colleagues on a job well-done.
—###—
True Crime Book: Famous Crimes the World Forgot Vol II, 384 pages, Kindle just $3.99, More Amazing True Crime Stories You Never Knew About!
---
Check Out These Popular Stories on Historical Crime Detective
Posted: Jason Lucky Morrow - Writer/Founder/Editor, July 27th, 2016 under Uncategorized.
Tags: Crime Website